China
Beijing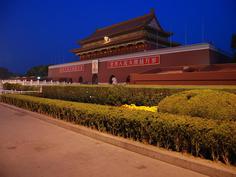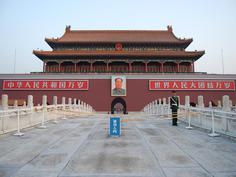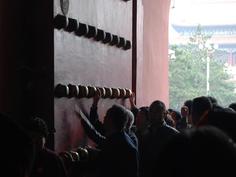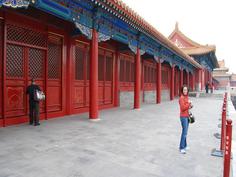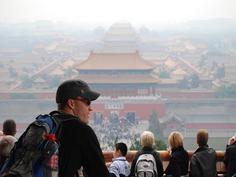 We chased the sun west and somehow made it from Friday morning to Saturday night without a single period of darkness. All connections went well and we found our way from the airport, through the Beijing subway system to our hotel, the Jade Garden Hotel.
It's still fairly early on Saturday night and we're tired but not sleepy and head out to try and get a feel for this city. The Forbidden City and Tiananmen Square are the geographical center of town and our hotel is a few blocks away, so we decide to check it out. It's quiet with just a few tourists and the guards. We snap a few pictures and head back to get some sleep. One long long day.
Sunday October 18th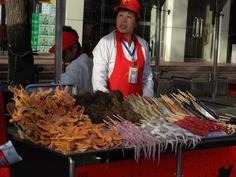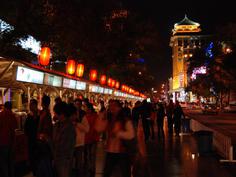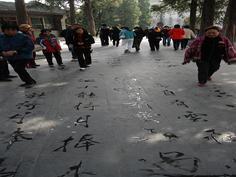 We're both up at 3:30am. We kill time for an hour or so and then head back to Tiananmen Square for the morning flag ceremony, which they do at sunrise and sunset every day. As we head out of our hotel lobby, I notice that the three front desk staff are all sound asleep with their heads on the desk. Not that I blame them, it's early. It's just funny to see.
The flag ceremony is a fun event. It's all very formal and people gather to watch the guards come out of the "Gate of Heavenly Peace" with chairman Mao's picture watching over the whole thing. They shut down the huge boulevard that runs through the square, raise the flag of China, and march back on in. The whole thing takes maybe 30 minutes.
Our breakfast was wonton soup with seaweed, mini shrimp, and cilantro, along with 2 bao-zi (meat filled pastry buns). It was great, and cost us all of 90 cents for the both of us! We're loving that.
Our tourist activity for the morning was to brave the crowds and try and see the Forbidden City. To me it was a site that's overwhelming to try and tackle. You're worn out before even making a dent in the ancient city. There are supposedly 9,999 rooms spread over the immense Ming Dynasty grounds. We spent most of the morning making our way through the various rooms, hallways, courtyards, and walls, trying to imagine what it was like to live here even just 100 years ago.
Sunday night we headed out to see the Olympic center – The Bird's Nest and Water Cube. The grounds are on the other side of town from where we are at, so back to the subway we went. The subways here are awesome, modern and clean and we've never waited more than about 2 minutes for the next train. They cost 2 Yuan (about 30 cents) for unlimited transfers.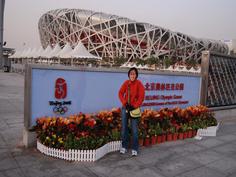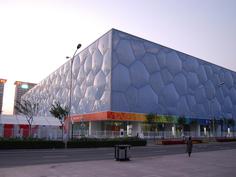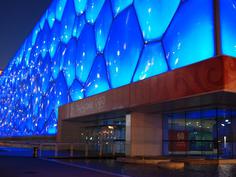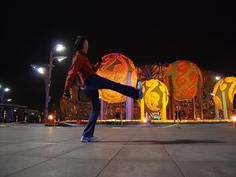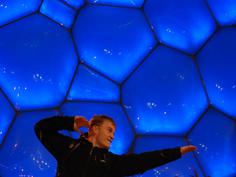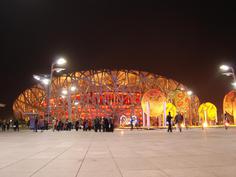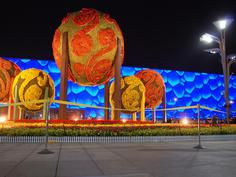 The Olympic center was quite the site, and as it went from evening to night and the lights of the stadiums turned on, it became quite the scene. It's been over a year now since the Olympics, but there were still hundreds of people taking pictures of those two buildings.
Great Wall of China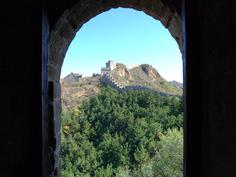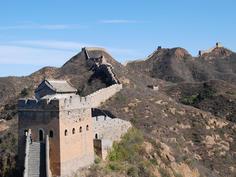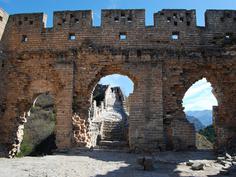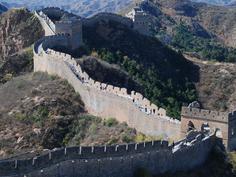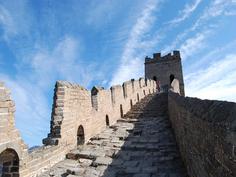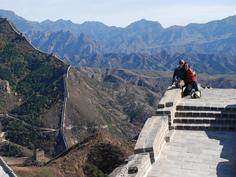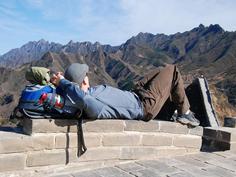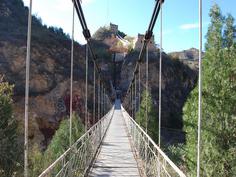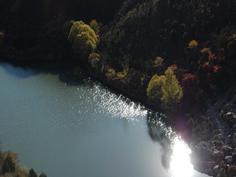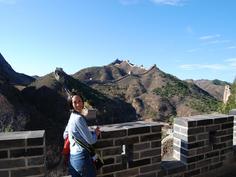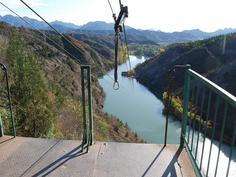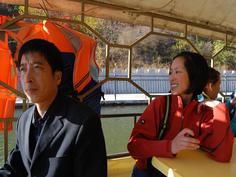 Today we made the trip to the Great Wall. There are several locations to choose from to visit, some closer to Beijing than the others. The closest and most popular is called Badaling, which we read is easy to get to, totally restored, and therefore swamped with tourists. We opted instead to have a little more adventure and head about 2 hours north of Beijing for the section that connects the towns of Jinshanling and Simatai. We took the city bus and hour north out of town to an agricultural town called Miyun. From there, Marian bargained hard (or at least as hard as Marian can bargain) with three taxi drivers for the best price. We're bargaining for them to take us another hour to the start of the trek, drive to the end of the trek, wait 4 hours for us to finish, then drive us back another hour to the Miyun bus stop. The whole thing cost us 380 Yuan (about 55 dollars). The ride from there was a little crazy as all foreign taxi rides are. Think passing a car on the left who's already passing a car on the left, while you both go around a semi blind curve. They seem to think that a quick beep of the horn while going around a blind curve is all that's needed to avoid an accident. So far it has worked.
At one point there were two big piles of rocks on either side of the road and a bicycle further narrowing the passage. The oncoming car and our driver were both trying to get to the gap first, ours made it and the other guy had to clip side of the pile of rocks. Our driver just turned around and laughed at us, like he had won the game of chicken. There was one fairly significant accident that we passed that reminded us that they don't always make it.
The Wall was amazing. The trek from Jinshanling to Simatai is about 10km and took us just over 3 hours to complete. You travel the ridge line from tower to tower, up and down over thousands of stairs. It looks like they are trying to restore the wall a little at a time. Near the two towns, the wall is in great shape. As you get farther from Jinshanling it deteriorates and some spots are kind of sketchy. It can be steep enough that you have to use hands. Then as you start to get closer to Simatai the condition improves again and the walking gets easier. There were people around but for the most part we trekked by ourselves and just enjoyed the experience. Certainly it's far enough away to discourage crowds, and difficult enough that some people would have a hard time. At each tower there's someone waiting with a cooler of "coke, beer, water, tea". Arriving in Simatai there was a zip line that crossed a lake and took you down the final section of elevation. The saddled us up with some harnesses, clipped us together, and sent us off the platform. A boat waits to pick you up and take you to the end, where our taxi driver was waiting. It was a great way to end the hike. It was another exhausting day but the highlight of the trip so far.
Summer Palace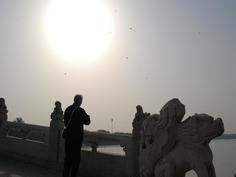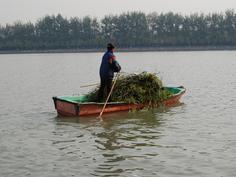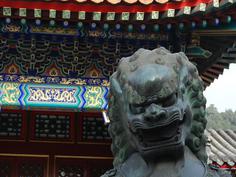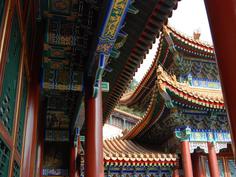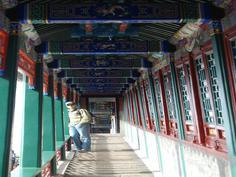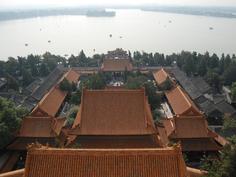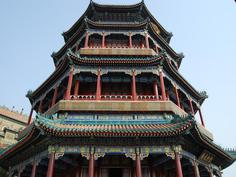 Today we strolled through the grounds of the Summer Palace, which is where the Qing Dynasty Emperor would spend his summers to try and escape the brutal Beijing heat. It's now a large park that circles the hand-dug Kunming Lake as has many temples, buildings and towers. We enjoyed the Summer Palace more so than the Forbidden City, it's not so stark and exact, and since it's a park, there are other activities going on. The men fly kites, the women line dance to music. We saw a few people meditating and some practicing Chinese calligraphy with the large brushes and a bucket of water. We walked around the lake and hiked up to the top of the "Tower of Buddha Incense" for a view over the whole grounds.
Observations about Beijing -
The air quality is really bad here, I mean really bad. That's not a secret and we knew that going in. What's funny however is that it makes people spit a lot. At first it was weird, people spitting all over the place, on the bus, while standing on the escalator, etc. Now we're doing it too. After a half a day of walking around you can feel the smog in your throat and it makes you want to hawk it up.
Some people wear the masks, so we are doing that too (Marian more than me). It's a little strange to walk around a city wearing a surgical mask, but it's so common here no one notices. It took us a few days to notice that no one has more than one child. Usually that one child is on the back of their bicycle, wearing a mask but no helmet. We've yet to see someone wearing a bike helmet. China's obviously in transition and much labor is still done by hand. We've seen a group of 4 men pulling large sewer pipes down the street on a cart. It's very common to see a huge load of branches, produce, boxes, etc, etc being peddled down the street on bike with a cart. We even passed one guy and his son traveling through Miyun via horse and buggy.
The names of any historical building are always very ambitious. "Tower of Over Abundance and Plentiful Rain", "Hall of Supreme Inner Harmony", etc. (I'd settle for just inner harmony, seems good enough.) Lines are a suggestion. We have been cut in front of everywhere, even on the plane to get into the bathroom! It drives Marian nuts.
Marian is doing absolutely great with the language, it's a huge help as almost no one outside of the hotel speaks English. She orders our food, bargains prices, asks for directions or help, and has been complemented on her speaking multiple times. What a blessing!
For our last night in Beijing we decided to go to a Chinese Acrobatics show. If you're familiar with Cirque du Soleil, this is along the same lines: unbelievable performances and maneuvers. Ironically, the most memerable part of the show was at the very end when, for once, they actually messed up. There were at least 8 girls balancing on one another while riding a bike around the stage in a circle. We were nervous for them just watching, and you could tell that they were just a little off that night. Sure enough, the whole thing came to a crash. At least one of them was injured and they had to help her off the stage. Tomorrow we're off to Yangshuo in the provence of Guangxi…
Yangshuo, Guangxi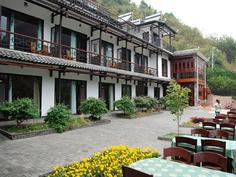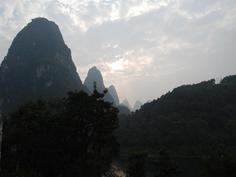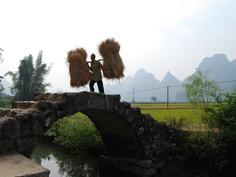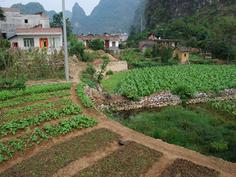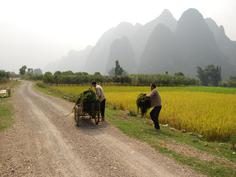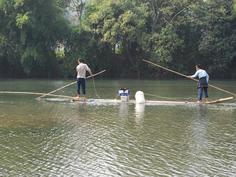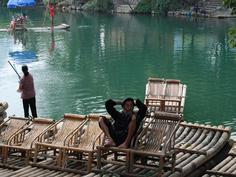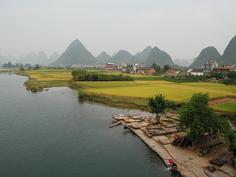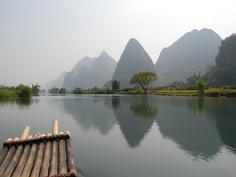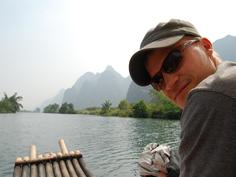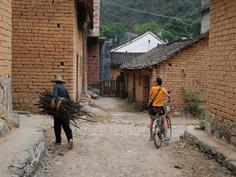 We made it to Yangshuo, the place that Ba (Marian's dad) calls the most beautiful place in the world. It's definitely a contender for that title. We're staying just outside of town in a quiet and nice little place called the Li River Retreat, it's perfect for us. Town is hectic and the happening spot is a place called West Street which reminds us of Playa in Mexico – shops, restaurants and all the tourists in town. We've yet to run into another American since being in Yangshuo. There are a few other caucasians around, and nearly all of them are German for some reason??
We rented bikes to get out into the country side. We have this very basic map and just picked a spot which looked like a couple hour ride away and went for it. After battling our way through the traffic of town, we were soon on a quiet street which eventually turned into a dirt road, which eventually turned into a dirt single track path. We took our time leisurely making our way through farms, rice fields and little towns. Spectacular karst scenery is in every direction. At one point a lady came out to us and wanted to show us the way to the Yulong Bridge, which is where we were headed. We were skeptical of her because we knew she was trying to sell us something. She would ride ahead of us by several minutes and wait where the trail forked and point us in the right direction. Even when we would take a break for a half hour and shoot some photos, wade in the water, eat lunch, etc. she would patiently wait and help us find the way. At first we were a little annoyed, but in the end it was a big help, we would have been lost several times without her help.
At the Yulong bridge you can hire a bamboo raft to go back down stream a few miles. It looked like a lot of fun so we did it. They put our bikes on the raft and we slowly floated down the river for several miles, then biked back to town. Another great and exhausting day. You can get a massage here for about $8/hr, so Marian has been getting one every day.
Yangshuo, Guangxi
The big adventure for the day was Tai Chi. We had read about Tai Chi lessons, and set off to find them. In the next valley over from our hotel there were several schools that teach Tai Chi and Kung Fu. We just picked the first school we came to and rode our bikes up the driveway, where we were warmly greeted. The lesson was starting in about 15 minutes and all of the students were slowly making their way to class. There were two British guys, a Danish lady, a lady from the US who lived in Thailand, and about 8 Chinese. As it turns out this was a school where you stay for 6 months to a year and learn TaiChi full-time, we were a little out of place. They started with a warm up and some of the students were waiving for us to join them, but the Master had said, "No, we must just watch." Eventually, the students talked him into it and we joined in the warm up. After the warm up one of the other Masters pulled us off to the side and gave us our own private lesson, going through some basic moves and sequences. He kept telling Marian that she was a natural, that she could become very good if she wanted to. He would give explanations to Marian, who would then translate to me. Our Master would listen intently to how she translated certain words. He spoke a little bit of English and was eager to learn new words – "Accurate", "From the top", "Loosen up". At the end we were friends and he asked us to sign his book, and we asked him for a picture with the three of us. They were extremely nice to us and we had a great time.
Xing Ping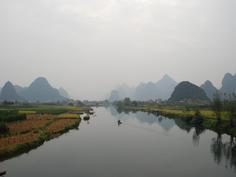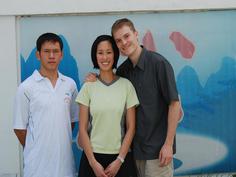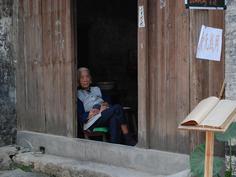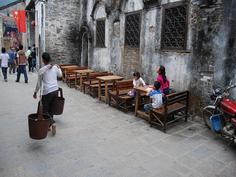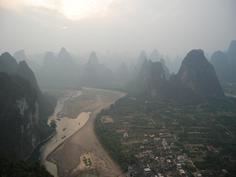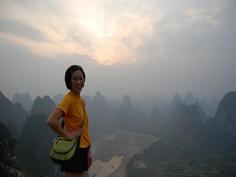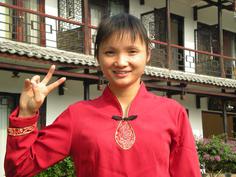 The next two days were days that we left open as far as what town we would stay for the night. There is a small town 45 minutes up river called Xing Ping (shing ping) that we decided to try out for one night and then make our way back to the Li River Retreat in Yangshuo for our final night in Guangxi. In Xing Ping there are only a few streets and a few places to stay. We tried out the HI hostel and they had a double room with private bathroom for about $12/night and we took it.
The streets during the day are busy with tourists checking out the town from one of many boats that stop here on the way to Yangshuo. Our big adventure of the day was to hike up to the top of a near-by karst formation to get a view of the whole valley in which Xing Ping sits. It was beautiful – endless karst formations in all directions with small towns in all of the valleys and the river carving its way through it all. We were hoping for a sunset, but it's too humid and hazy today (probably every day for that matter). By the time we made our way back down the tourists were gone and we were one of about three people out in town.
Climbing Yangshuo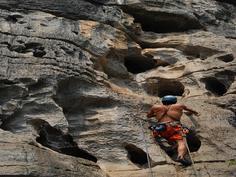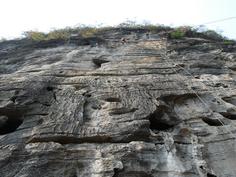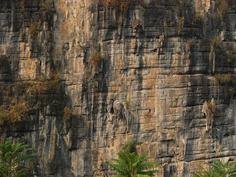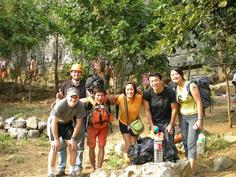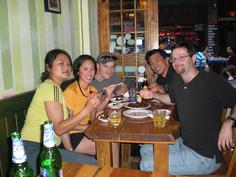 We caught a morning bus out of Xing Ping back to Yangshuo for our final day in the Guangxi provence. When we arrived back at our favorite little hotel, the ladies that run the place saw us coming back up the drive way and came out to warmly greet us and take our bags. They're so cute here at the Li River Retreat, always willing to help and are genuinely nice to us.
The day before we had set up a climbing trip through a climbing outfit in town. The lady that runs the outfit was named Echo, and ran a bar/restaurant in town, which also served as a climbing excursion shop. She was Chinese and spent time in the UK so she spoke English wonderfully. Yangshuo is a climbing mecca since many of the thousands of limestone karst formations have climbing possibilities. Much of this area is still largely undeveloped, and Echo and her crew have been working on opening new areas and growing the sport in this area of the world.
There were six of us – Marian and me, a Korean gentleman named Roger, Chris from Seattle, Echo, and Xiao Qiang, the other guide who was an absolute stud climber. Roger the Korean owns a factory in Korea that makes climbing shoes for a few of the large brands in the world. Ironically, he had only climbed a handful of times, but he climbed very well. He was also responsible for introducing the brand Montrail to China and Korea. I was wearing my Montrail shoes, so we were buddies right away. Xiao Qiang would lead the routes with ease, pulling up two ropes and setting two different routes for us to work on. Then the four of us "clients" would climb while Echo and Xiao Qiang belayed. Marian, Rodger and I were all about the same level and they catered to us, working our way from an easy 5.6 warm-up to some challenging 5.10s. Chris had never climbed before and would just get a far as he could and then come down.
The rock here is limestone and is very different from the mostly granite and sandstone that we have in Colorado. There are huge pockets, caves, and columns that make the routes interesting. The rock itself is sharp and angular. The routes are long, up to 30 meters. By comparison, Marian and I have a 50 meter rope which obviously wouldn't work here.
We climbed for about 3 hours until the forearms were exhausted, then made our way back to Yangshuo for a beer at Echo's restaurant. We were all buddies by this time and we just hung out for the rest of the afternoon telling stories and drinking beer while Echo brought out pizza, snails and dates. Roger told us next time we need new climbing shoes, to just email him and he'll send us a pair! Our last day in Yangshuo turned out to be a good one.
Lijiang, Yunnan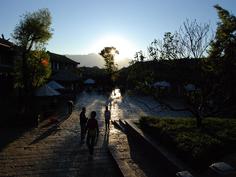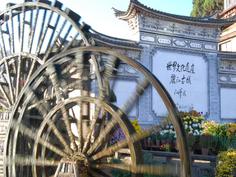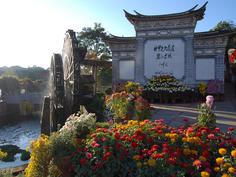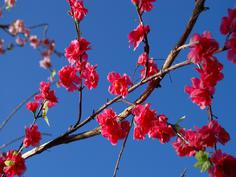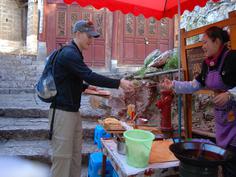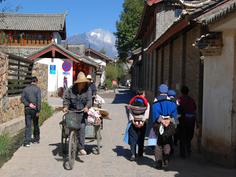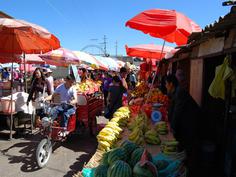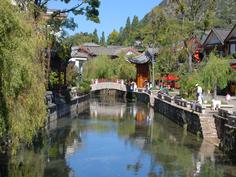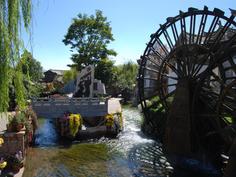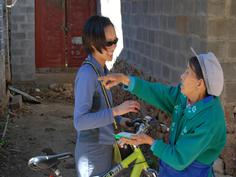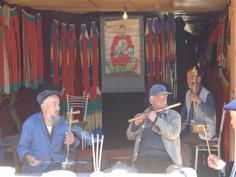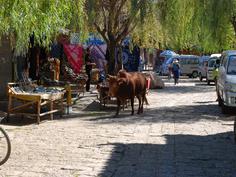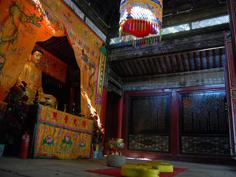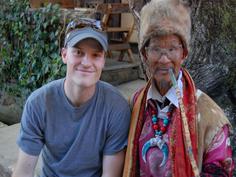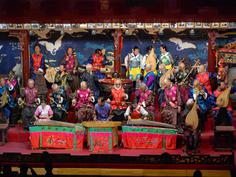 We left Yanghuo and headed farther west for Lijiang which is in the Yunnan Provence. Getting there requires two flights from Yangshuo, one to the large city of Kunming, and another very short flight to Lijiang. We ran into some trouble in Kunming in that our airplane for Lijiang never showed up. They said it was delayed, so we waited for a while for some news on how long the delay was going to be. We had a taxi and a hotel lined up on the other side so we wanted to give them a heads up if it was going to be a while. Marian kept trying to get information out of the airline staff at the gate and finally talked to another passenger who said that the flight wasn't coming. He told us that they hadn't made the official announcement yet and that we better get booked on another flight before they do. After that, it was mass chaos. We ran back out through security, battled to get to our airline's ticket counter to change the flight. If you're not pushy and very aggressive, you'll never even get to the counter. Marian was tough, pushing and shoving and yelling her way to get the ticket attendant's attention. Then we had to start all over again to get checked in. Marian battled again pushing her way up to the counter and arguing with other passengers in order to be the next one served. We were running up against the 30 minute time limit for checking in and this was the last flight for the night to Lijiang. Marian came through big time and we made our flight, phew! We arrived at our hotel in the old city of Lijiang at 10:30 pm. Lijiang is the cutest town! The whole town is a UNESCO site and is one of a very few ancient villages in China that have survived from antiquity. Lijiang is one of several villages of the Naxi (nashi) people. The streets are narrow, paved with cobble stone, and wind and turn every which way. At first you need a map to find your way through. We instantly loved it here; it was worth the trouble earlier in the day.
Lijiang, Yunnan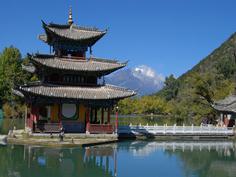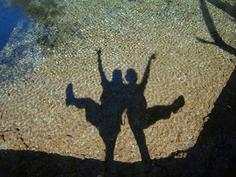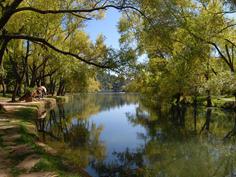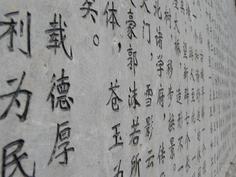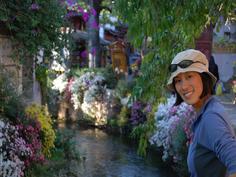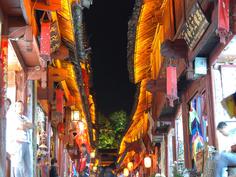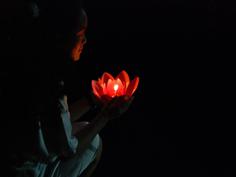 We were up and out early this morning to try and get a better feel for the town before it gets busy. It's a gorgeous little town with a couple of squares, a temple, two large water wheels, a market, and Jade Dragon Snow Mountain (18,359 ft!) looming off in the distance. Many of the elderly Naxi still wear their traditional clothing. We visited the market and bought some fruit. They had everything at this market including live caged chickens for sale. Disturbingly to us westerners, they also had caged live dogs for sale, which we assumed were also for eating.
After getting a feel for the town we decided to rent bikes again and tour the country side. We rode north for about an hour to another Naxi town of Baisha where we had lunch of yak, pumpkin, and fried rice. Baisha has murals that are several hundred years old and were painted by Buddhist monks, and we gave them a visit. A comical moment happened as we were leaving town – a big steer was just walking his way up the main street. Everyone just moved aside and let him come on through. Even the locals thought it was pretty funny! We made one more short stop at another Naxi town of Suhe. It was like a smaller Lijiang and we just walked the main street and then made our way back to Lijiang. Our best days so far have been on the bikes, and this one was no exception. We had a great time just pedaling through the towns and country side, just taking in the daily activities of life here. We ended the long day with a trip to the Naxi orchestra. The orchestra is interesting that they play ancient instruments, and there is some cultural and historical significance of their group, but the music is somewhat annoying. We felt bad thinking that, but there's no way around it. When the ladies start to sing "opera" style, you almost plug your ears.
Lijiang, Yunnan
We woke up this morning to freezing cold. Okay, it's not that cold, but our room has the Japanese style paper windows and no heat, which is the norm here in the old town. Despite being at nearly 9,000 ft, and at the foot of the Himalayas, Lijiang is surprisingly temperate getting into the mid 70′s during the day and probably into the low 50s at night. We have yet to see a cloud except for the ones blowing off of Jade Dragon Snow Mt. Still, it's cold in the morning when your room is about 55 degrees.
With the exception of Beijing where every day was packed full of sightseeing, we have generally been following the pattern of going hard for a day and then taking a relaxed day. Yesterday was a full exciting day, today was a relaxed day. We tried to finish seeing parts of the old town that we had yet to make it to, then headed off for Black Dragon Pool Park. Black Dragon Pool Park is a public park that has some wonderful views of Jade Dragon Snow Mountain. In fact, it's kind of the Maroon Bells of this area, you see the particular photograph everywhere. We spend a good portion of the afternoon just wandering through the park and enjoying the day.
Tomorrow we're off to Shangri-La (shang ga li la), formerly known as Zhongdian. It takes a four hour bus ride from Lijiang to get there and marks the final destination of our trip :(.
Shangri-La, Yunnan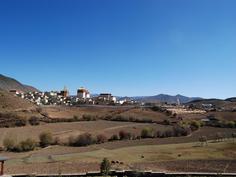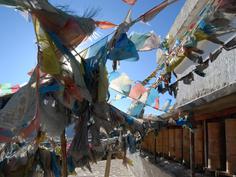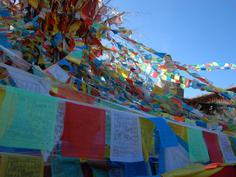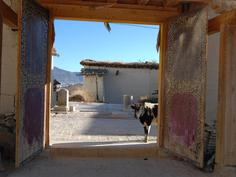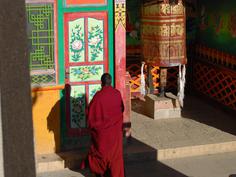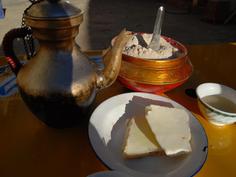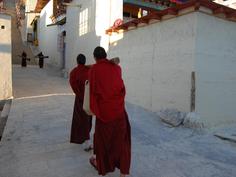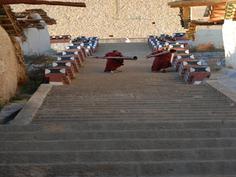 After a long but scenic bus ride that circumscribed Jade Dragon Snow Mt and crossed the famous Yangtze River, we arrived in Shangri-La. The Songzanlin Monastery was the reason for continuing on to Shangri-La as it's the largest and most significant Tibetan Buddhism Monastery anywhere in the world outside of Tibet. Coming here was an easy way for us to get a flavor of Tibet without having to go through all the special travel arrangements, permits, extra distance, time and money of actually going to Lhasa (maybe next trip). At one point the monastery housed 8000 monks! Today it houses closer to 800.
The story behind the name "Shangri-La" comes from James Hilton's book Lost Horizon from 1933 where a hijacked plane ends up crashing just past the Tibetan plateau near a mythical (and fictional) village called Shangri-La. There's a large Buddhist monastery in the book and this is about the right geographic location in the world, so the Chinese government decided to rename Zhongdian as Shangri-La to help promote tourism. It's kind of gimmicky, but it doesn't take away from the fact that this is a great place to visit. I decided to read Lost Horizon on this trip; It's been fun to read the story and imagine that we are in the same location.
We walked over to the monastery today and made our way through the grounds. There are several temples with prayer flags flapping in the breeze. Along with the monks, there are a few tourists, and some livestock. We mostly just try and stay out of the way while still getting a feel for the place. We ran into one very young monk who must have been 10 years old. He wanted us to tour one of the sanctuaries and kept pointing which way to go. We asked if we could take his picture, but he shook his head no. Three of the monks were running a concession stand with the usual coke, chips, etc. They also offered "Yak butter tea". We gave it a shot, andI can't say it was all that good, a little sour. It also came with some kind of a powder, but we couldn't figure out what that was.
Shangri-La, Yunnan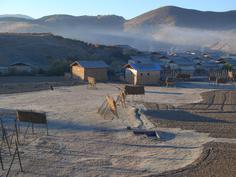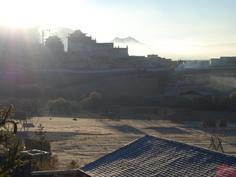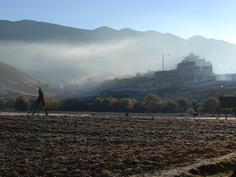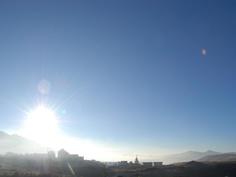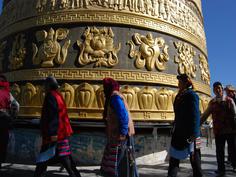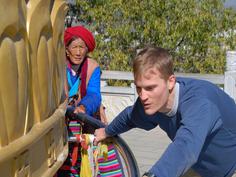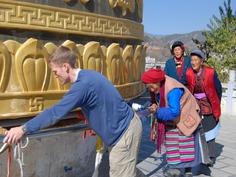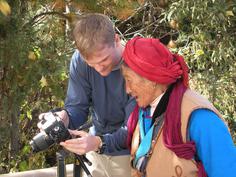 The Songzanlin Monastery sits high up on a hill overlooking the old town (and growing new town). The old town is somewhat similar to what we saw in Lijiang and Baisha, old wooden buildings surrounding narrow winding cobblestone streets. There is another monastery on a hill within the old town which made for a good venture. The actual sanctuary was somewhat status quo and we've seen a bunch of them by now. However, there is also a giant golden prayer wheel which was the source of some great moments.
The wheel sits perhaps 40 ft tall and 15 ft in diameter and takes quite a few people pushing hard to get it moving. When we first got there it was stopped, but we arrived at the same time as another group of four or five Chinese and a couple of Tibetan Buddhist old ladies. We all pushed and got the wheel turning, always in a clockwise direction (that's a Buddhist thing). We had barely the minimum number of people to keep it moving, which made it quite a workout for all of us. When someone would drop off, it would slow down and everyone else really had to pull hard. Then some new people would arrive and it got easier to keep it moving. If there were enough other people around to keep it moving, I would drop off to take some pictures and then quickly get back on. The elderly ladies never dropped off, they just kept going. Then again, they were little and elderly and I don't know how much work it was for them:). At one point I was in the slot just ahead of one of the cute old ladies and we barely had the wheel turning. I was pushing as hard as I could and would look back at her and she'd smile and nod as if to say, "Keep going we're moving it!". Marian got a few photos of us together. After a while Marian and I were worn out and just let the thing come to a halt. The old ladies then continued to just walk clockwise around the wheel. As we were about to leave, the nun that was behind me on the wheel came up to us and wanted to see the pictures, she thought they were great, it was cute.
Late that afternoon, I went back to the Songzanlin Monastery to grab a couple of little gifts that they sell right outside one of the large sanctuaries. There was non-monk guy that was running the little gift stand. I didn't have exact change and he had to break the bill that I gave him. So we went over to this door on the side of the sanctuary and opened it up. Inside was one of the monks, sitting cross legged, meditating, looking over his scriptures. My sales guy told him that I needed change (or at least that's I assumed he said). It was a little awkward, but then the monk whipped out this huge wad of cash from his robe and proceeded to give me change. He also gave me this little gold bell and said something that I didn't understand. It was kind of a funny moment.
Kunming, Yunnan
We left our posh retreat early this morning to fly back to Kunming from Shangri-La. The Shangri-La airport didn't have heat and it gets very cold at night here. It was kind of funny to be going through the security line and being able to see our breath! An hour later we were in Kunming which is known for its temperate climate, it was mid 70s and beautiful. We're tired and not all that motivated to really do much site seeing here in Kunming. It's just a big city to us (about 6 million people). We just found our hotel, found some restaurants, and bought some tea to bring home. No real stories here. Tomorrow we fly back to Beijing for a four hour layover before heading back to the States. We do get to hang out and grab some lunch with Marian's cousin Nelson, looking forward to that as we have a ton of questions on China that we're going to bombard him with. Other than that we're just about done! As always, it will be nice to get home.