Croatia, Slovenia, Austria, Hungary
Dubrovnik, Croatia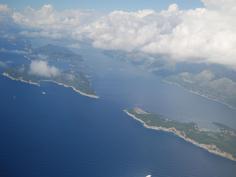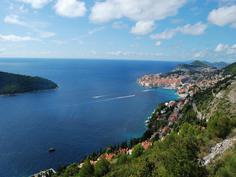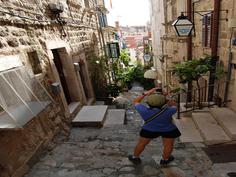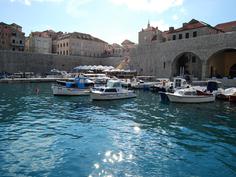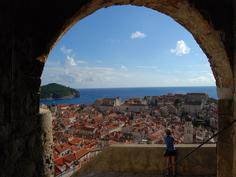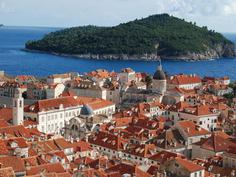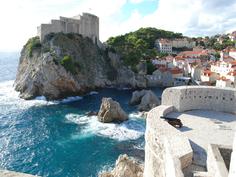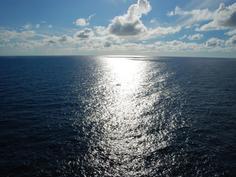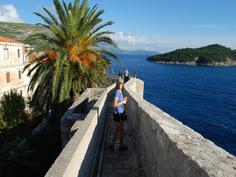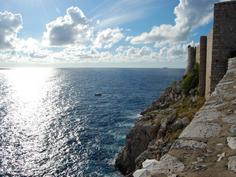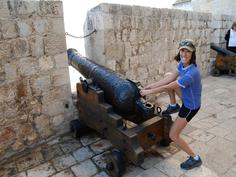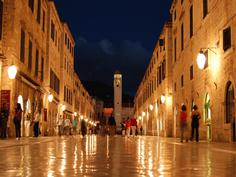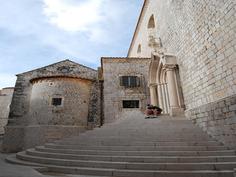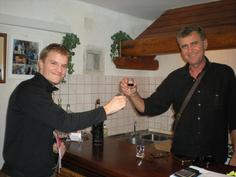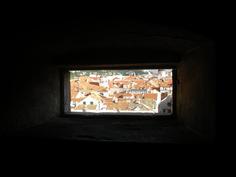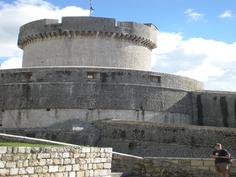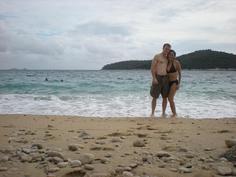 This year we headed out for the Dalmatian coast of Croatia, on the Adriatic Sea. Our first four nights are in Dubrovnik, a gorgeous medieval walled city. Our host, Pero, picked us up from the airport and showed us to his place inside the old walls of his town. During the war in 1991, about half of the buildings in Dubrovnik were hit by bombs and grenades, and Pero's home was one of them. He showed us the remnants of the bombs that took the roof off of his home.
Our first day was spent just walking the walls of the city, swimming in the sea, and exploring the winding alleys.
Mostar, Bosnia-Herzegovina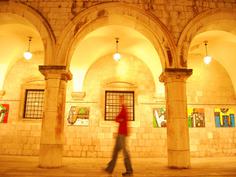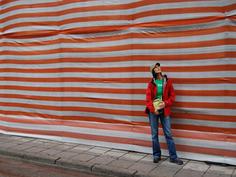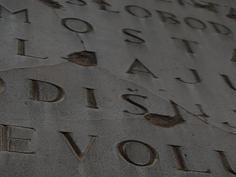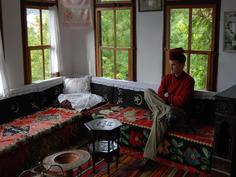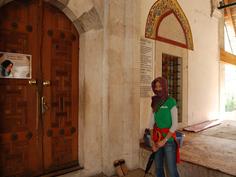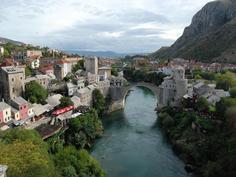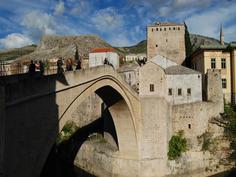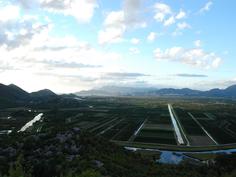 After a day and a half of relaxation in Dubrovnik, we decided to adventure out a bit. Mostar, Bosnia-Herzegovina is about a two and a half hour drive from Dubrovnik. We rented a car for the day and headed out. There was a drenching rain all night and into the morning and the rental guy told us several times to drive slowly, which we certainly did. We came across one accident where the person had somehow flipped their car on its hood.
Going from Dubrovnik to Mostar requires three border crossings: into Bosnia-Herzegovina for 6 miles, back into Croatia, back into Bosnia-Herzegovina. The six mile stretch was given to the Ottoman empire by the Republic of Dubrovnik as a protective buffer from the Venetians. At the time, the Ottoman empire was the world power, and no one would cross their land.
The attraction in Mostar is the bridge, which is the link between the two sides of the town. During the war in 1994, the bridge was destroyed, physically and symbolically, to separate the fighting sides. Today it is the heart of the town and quite a sight to see. One of the highlights is when the young guys of the town jump from the bridge, 60+ feet to the river below.
Bosnia-Herzegovina is the first Muslim country that we have been to. The country is split between Catholic, Muslim, and Orthodox, but the Muslim population is the largest by a slim margin. There are several minarets visible from anywhere in town. We visited a mosque, where it was suggested that Marian cover her head, so she did. We climbed to the minaret for one of the best views in the city, and happened to be up there as the afternoon prayers where being broadcast through the city from the top of each minaret.
Many buildings in Mostar are still bombed out or heavily damaged from the war. Most buildings have bullet and missile marks. It's very sobering to see all of the damage and all of the graves from 1994.
Dubrovnik, Croatia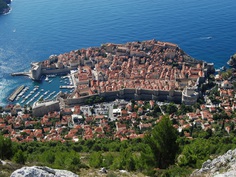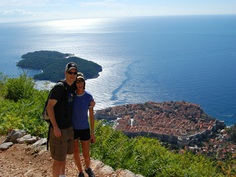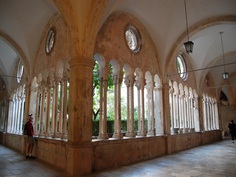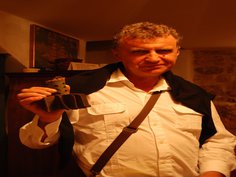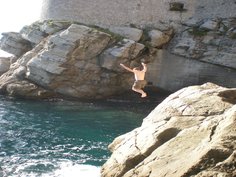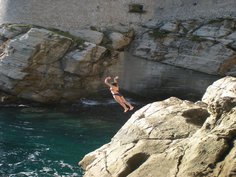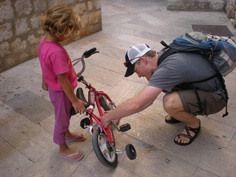 Our last full day in Dubrovnik. We took the cable car up to the top of the mountain overlooking Dubrovnik, with views of the Adriatic and many of the Dalmatian islands to the north.
On the back side of the castle walls (sea side), there is a little doorway cut out of the wall that leads to a hangout with a handful of tables with umbrellas, a little bar, and a handrail to get to the water. It is one of the coolest places I've ever swam – we were literally swimming at the base of the towering castle wall! We found a place were we could climb up the cliffs, maybe 20 or 25 ft, and jump in. The people walking the castle wall way up above would watch as we jumped in. We thought we were pretty cool until a local guy put us to shame by launching off one of the cliffs above us, probably 40 or 50 ft up, in a really nice dive. He was awarded with a nice cheer from the people on the wall and from some people passing by in a boat, and from us.
Korčula, Croatia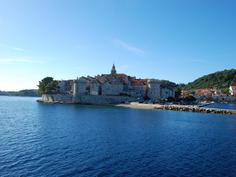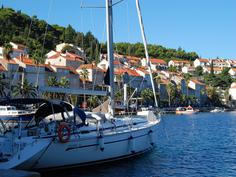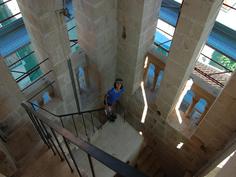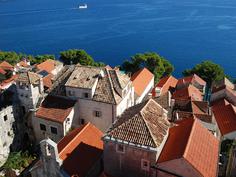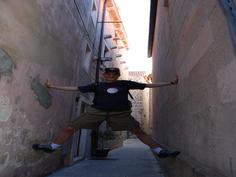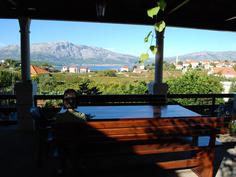 We left Dubrovnik early this morning, headed for Korčula. We hired a driver from Dubrovnik to Orebić, then caught a ferry to Korčula, a small walled medieval city on a island. It's a quiet little town, but beautiful, and the surrounding countryside is filled with vineyards. We spent a few hours touring the old town, then rented bikes to tour the island.
The water here is calm and very clear, perfect for swimming. We found a little spot to set up and swam across a little channel to a mini island.
We rode to two of the wineries, which were charming, but vacant. One was open, we walked through the tasting room and all, but couldn't find anyone around to help us. The next winery was just the same. Oh well.
A funny thing happened tonight while eating dinner. We ate on the rooftop patio of a little restaurant. Somewhere in the town we could hear a chorus of singing, almost like Christmas carols. A Capella is big here, and it seems to be either all men or all women. So Marian asks our waiter what the music was and he says in his best English, "It's the wives in the church, they practice… uh what do you call it… what's the word in English… ah, I know, whore!" Marian says, "Do you mean choir?" "Ah yes, that's the word." and he walks off. We started cracking up.
Hvar, Croatia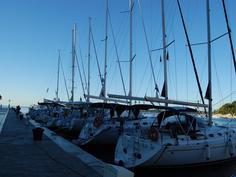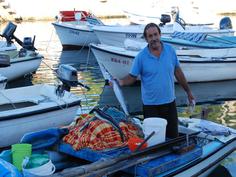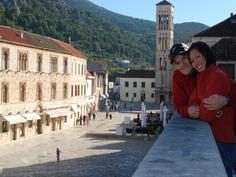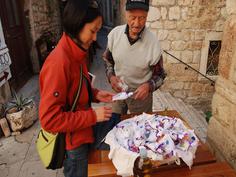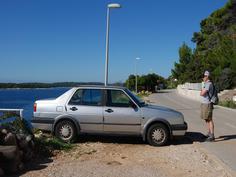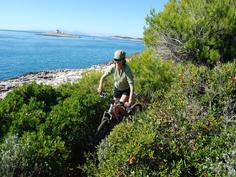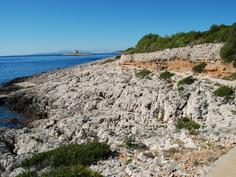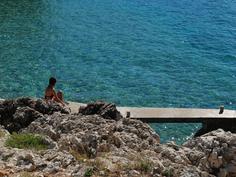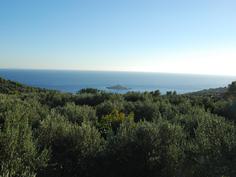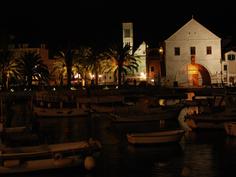 After an early morning catamaran, we found ourselves in Hvar Town, on Hvar island. Hvar is similar to Korčula in that it is a charming old island town, with a harbor, surrounded by grapes, olives, and lavender. Hvar is bigger and more upscale. I like Korčula better, Marian likes Hvar better.
Today was similar to yesterday in that we spent the morning wandering the town, and the afternoon biking the island. We picked a beach on the map and went for it. The road took us half the way, and a hiking trail was needed for the rest. Sometimes we were able to ride the trail, and sometimes not, carrying our bikes for much of the rocky trail. A stronger rider might have been able to make the whole ride. When we reached our destination, it turned out to be a nude beach. The location was gorgeous, and other than two old, fat, naked, sunbathing couples, we had it to ourselves. Marian went au naturale too. I went topless.
Tomorrow we catch another early morning catamaran to Split!
Split, Croatia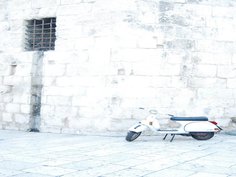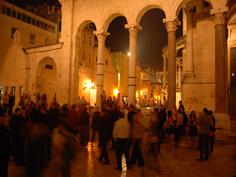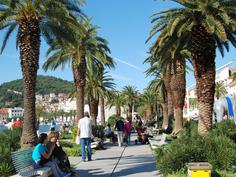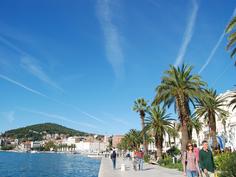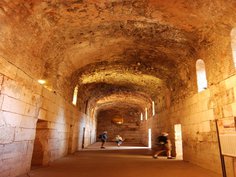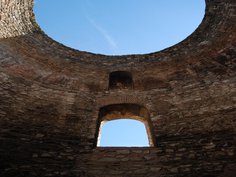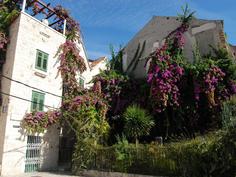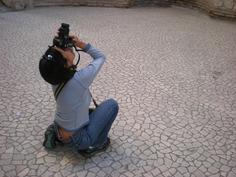 After several days visiting small towns, the bustling city of Split was quite a change. Split is defined by the enormous palace of Diocletian, a Roman emperor from the 4th century. Long after Diocletian's death, and through the medieval period, people turned the palace into a city, Split, building on top of, through, and around the ancient palace. Today the palace is interwoven into the oldest part of Split. The little room where we are staying is within a medieval building that was built within the walls of the original Roman palace, quite cool. Unfortunately, cruise ship traffic completely overwhelmed the palace. For the first time on our trip, we had to deal with crowds. We toured the palace, which is kind of an archaeological type tour, then left the old town for the beautiful home-turned-museum of modern bronze sculptor Ivan Mestrovic. It was a small museum, but beautiful, and well worth the trip.
By the time we made it back to the city, the cruise ship traffic had parted and the charm of Split returned – empty alleys with candles, musicians in the square, really nice.
Motovun, Croatia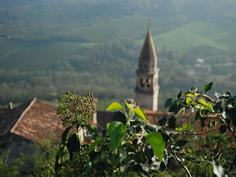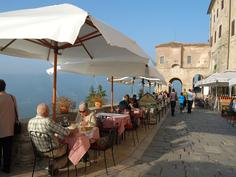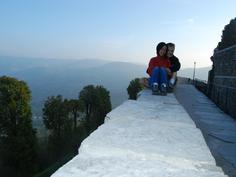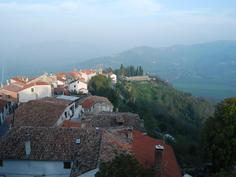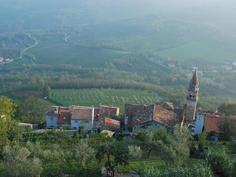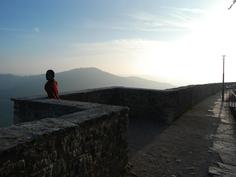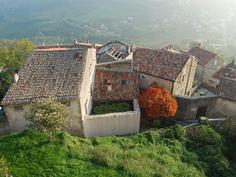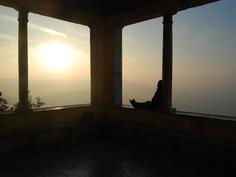 We rented a car in Split for the next several days to travel north into Istria – land of the hilltop villages. In a few hours we went from the sea and palm trees, to a dry arid landscape, to a lush forest of fog and rolling hills, and finally on to the Tuscany-like Istria. We settled in the hilltop town of Motovun.
The expressway had several toll stops along the way, we were continually having to take a ticket, then pay for a section of the trip. As we were approaching Motovun, there was yet another toll both, but ths time they asked for passports, which we thought a little weird. He asked where we were staying and we said Motovun. Okay, go ahead, and away we drove. A few kilometers later we came to another toll both. They wanted passports and a copy of the rental agreement. We finally figured out what was going on – we had missed a turn and ended up in Slovenia! We literally did a u-turn in the second border crossing, getting our passports stamped for entry and exit in consecutive minutes. The border guard gave us a nice map and told us where we missed the turn, and we were back on our way into Croatia.
Istria, Croatia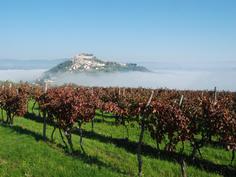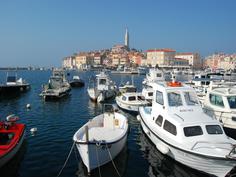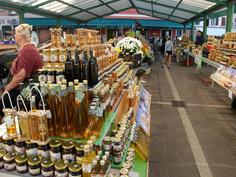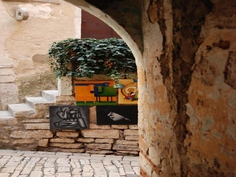 Land of wine and truffles! What's the deal with truffles anyway? We made sure to order truffles for dinner on a pasta dish, which was fine, tasted great. But on chocolate cake? For more than twice the price as without? Today we spent just touring the country side. We made it out to the sea and the very Italian feeling town of Rovinj, then worked our way back inland through a couple of hill towns. The hill hown of Grožnjan was kind of neat in that the whole town is filled with art galleries. No crazy stories, just a lazy day in beautiful countryside.
The Karst, Slovenia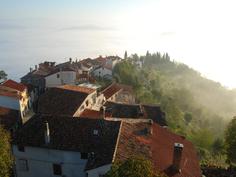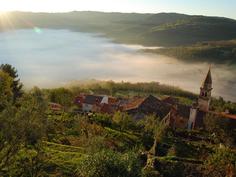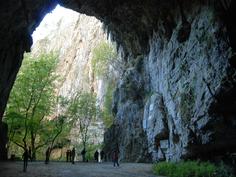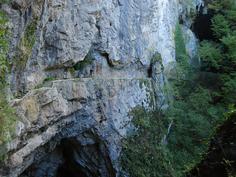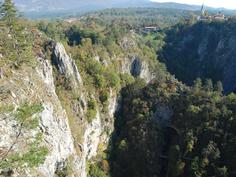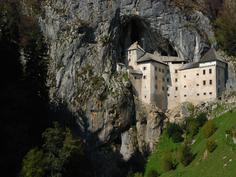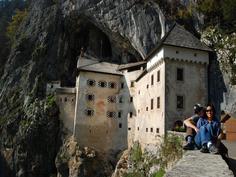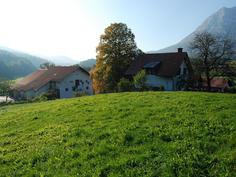 We crossed the border into Slovenia on purpose this time. We have another lazy day in what is called the Karst region of Slovenia. Karst simply means limestone formations, of which we climbed on in Yangshou, China. There are hundreds of caves in the limestone around this area. Most of the caves are similar to one another, but a couple stand out as unique for certain reasons. We chose to go to the Škocjanske caves that are on the UNESCO list for natural wonders, and it was spectacular. We were part of a small group with a guide who led us through the underground cave for about two hours. The largest area was big enough to fit a soccer field inside and volume-wise was similar to perhaps the Pepsi Center. A river ran more than 100 ft below as we crossed bridges and climbed up and down carved stairs. At one point the guide turned off all of the lights to illustrate what it was like for the early explorers who only had a candle to navigate the caves with. It was pitch black with the sound of a rushing river, spooky. Unfortunately they do not allow photos until the end where the daylight is visible. After the caves we continued north for a quick stop at Predjama castle. We sneaked inside because we hadn't yet been to the bank for Euros, all we had were the Croatian Kunas, which they scoffed at. They weren't really checking tickets, so we quickly passed over the draw bridge and went in through the exit. We're so bad.
We decided to stay at a family farm in the Karst region tonight. We had thought about going all the way to Lake Bled, which is where we'll be for the next two nights, but the farm sounded fun. When we arrived, a young boy showed us to our room, as his parents weren't home yet and the grandparents only spoke Slovenian and German. The mother came home later in the evening and served us a traditional Slovenian meal from their garden and animals. She has ten kids! The little ones were helping to bring out food. It's a cute place with more beautiful scenery all around.
Lake Bled, Slovenia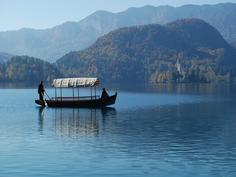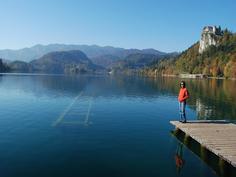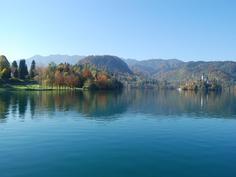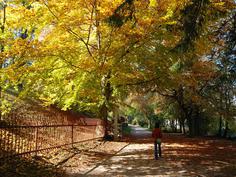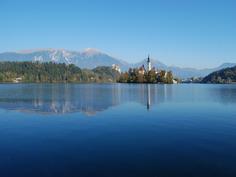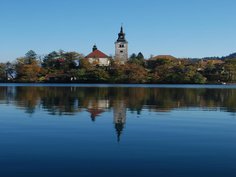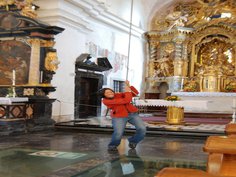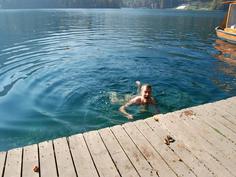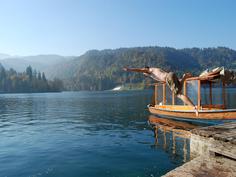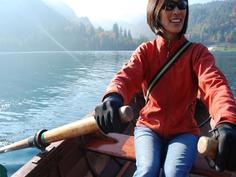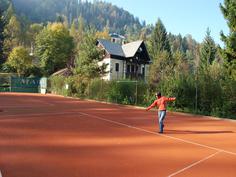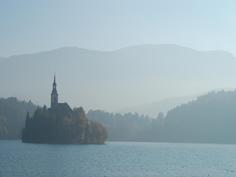 After a farm cooked breakfast we were back on the road to Lake Bled, about an hour and a half north of the farm. We drove through thick fog again but were greeted in Bled with nothing but blue sky and sunshine. We strolled all the way around the lake, three and a half miles, stopping constantly for pictures. It's hard to take a bad picture here, we have another two dozen that could have easily made the cut. There's one island on the lake, which you can get to by taking a Pletna boat, rowed by the stand up paddler, or by rowing yourself. We chose to row ourselves, I rowed out, Marian rowed back. The island is very small, just big enough for a little church and cafe which sit at the top of a hill. There are 99 steps to get to the top of the hill. For newlyweds, there is a Slovenian custom that the groom must carry his bride up the 99 stairs, so that's what we did. I just made it; good thing Lil Chenger is lil!
The sun was out, I think the temperature outside was in the mid 50′s, the water looked so nice, so I went for it and dove in, then got out quickly. It was cold, maybe not quite Colorado mountain-lake cold, but almost.
As we were finishing up our walk, probably a half hour after my little swim, the temperature started to drop and the fog settled in. We went from completely clear to pea soup in less than an hour. Google says 0% chance of rain but it is misting outside with 100% humidity. We had planned to hike to the castle, but decided to hope for a more clear weather with the sun up tomorrow. We'll see.
Lake Bohinj, Slovenia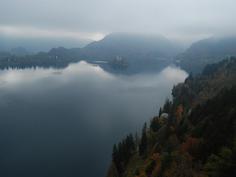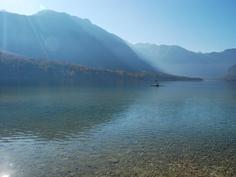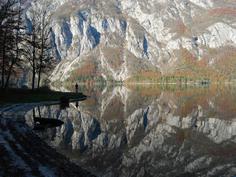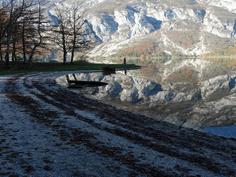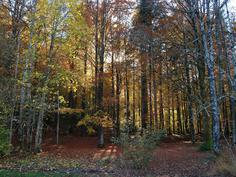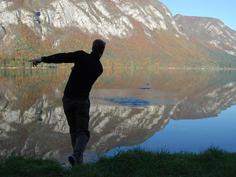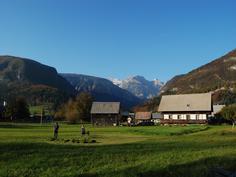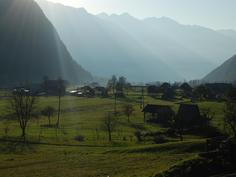 The weather started foggy in the morning but cleared for us by noon, so we headed up to Lake Bohinj, about a half hour into the mountains from Lake Bled. More beautiful scenary all around with little towns along the way that still seem like they haven't changed in a hundred years.
Ljubljana, Slovenia – City of Dragons!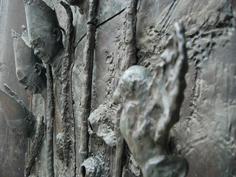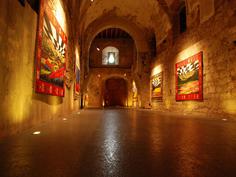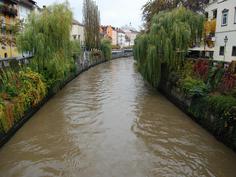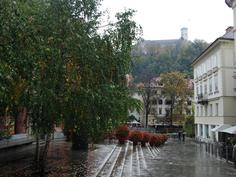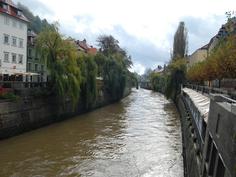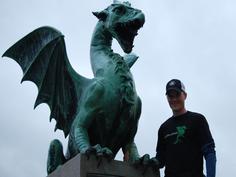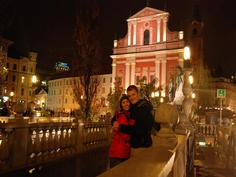 We have had nearly perfect weather this entire trip. That all changed today, the rain caught up with us. Ljubljana is a very cute little capital with a colorful and fun town center, overlooked by a castle. Rick Steves calls it the next, next Prague (Krakow gets the one-next honor).
We made use of the sporadic intervals of 15 minutes that it wasn't raining to move from cafe to museum to church to cafe to another cafe and so on. We did pretty well overall, I think we saw everything we wanted to, and ended up pretty wet. This is the end of the trip for Marian, she leaves in the morning, and I'm so sad – going to miss my little travel buddy. I love you.
Salzburg, Austria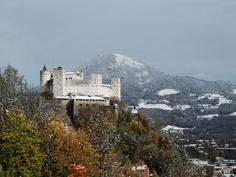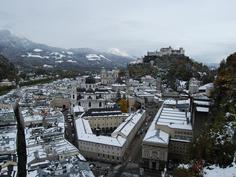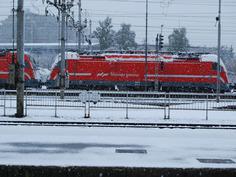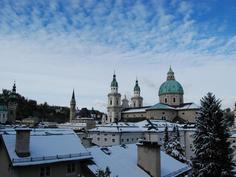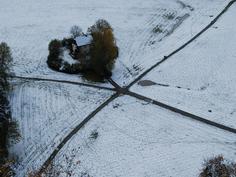 My Lil Chenger left bright and early this morning. We had previously scheduled a transfer from a shuttle for the 30 minute drive to the airport for 5am. She didn't have much time to waste so we were nervous that the guy wouldn't show up on time. Ten minutes past we just hailed a taxi for twice the cost and sent her on her way. Going back to the room, I noticed that my iPad said 4:15; we completely forgot about daylight savings time! It happens a week earlier here in Europe. Oops. Sorry about that mister van guy, I'm sure you were cursing our name an hour later. I still haven't heard from Marian as to when she figured out our little mistake.
My trip was a little different. The rain turned to snow by morning and the train schedules were all delayed. There was one person on the tracks that spoke Slovenian, and translated to everyone else (me and about 8 other Austrians and Germans) what was going on. Our train was going to be 60 minutes late. There was another train in 15 minutes that went part of the way, which was good enough for some people to make their transfers. I had to wait for the hour in the freezing cold. The other train showed up, some people got on, it went about a half mile and broke down. Everyone got off and walked back to the station. The Austrians were cursing the Slovenian trains. After almost 60 minutes in the cold they changed it to at least 120 minutes late. Then they said that everyone should just get on the train that had just broke down, that they were sure it was fixed now. Ok fine, just point me to a warm train.
Instead of a direct train of 4 hours, I had to switch trains three times and it took 6 hours. There was one German guy that was on his way home from Thailand and we got to talking about that. He and his wife made a living (with two little kids and one on the way) doing theatre in Iran(!) and Thailand. He had some good stories and helped pass the time.
So here I am in snowy Salzburg, it looks a little different than the last time I was here. The city is covered in a few inches of snow. If the sun would come out it would be really pretty, right now it's just kind of grey.
Vienna, Austria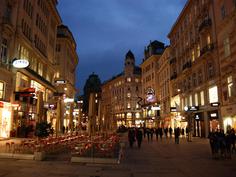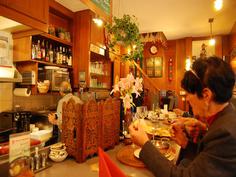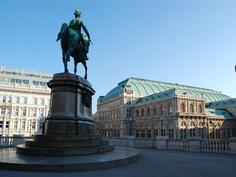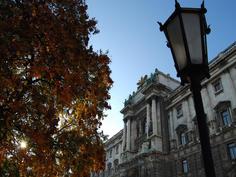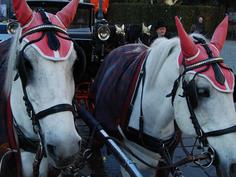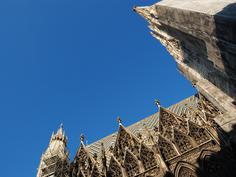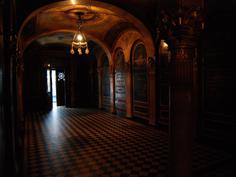 The fast train (120 mi/hr) from Salzburg to Vienna is only about two and a half hours and has a wifi connection, so it's about as easy as travel gets.
I found a hotel by the 'Naschmarkt' which is a boulevard with a market in the middle. The thing that's different is that along with the farmers market type stalls, there are dozens of mini restaurants in the market. I was craving Indian food and found a little Indian restaurant with maybe eight seats at a bar where the cook made everything right in front of you. The Indian accent speaking German also kind of cracks me up.
Vienna seems to be two things, the city of the Hapsburgs – fine food, wine, fashion, cafes, and art nouveau. And the city of music - Mozart, Beethoven, Strauss, and my favorite of all of Marian's ballroom dances, the Viennese Waltz. So I visited two museums. First, the upscale Kunsthistorisches, made from the Hapsburgs art collections, featuring Rafael and Rembrandt. Second, the Haus der Musik, a modern, tech-savy museum with everything from Mozart as club music, to virtually directing a symphony, to learning about the science of music. Both museums were very different, and both very good.
Budapest, Hungary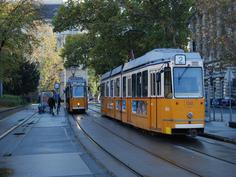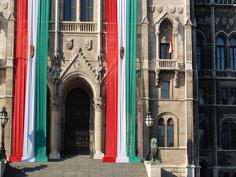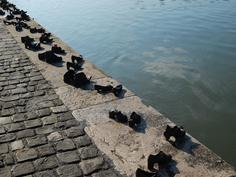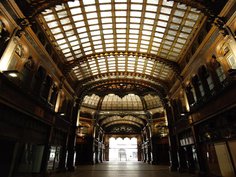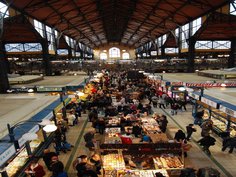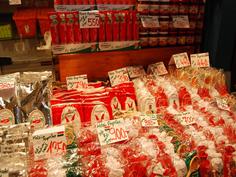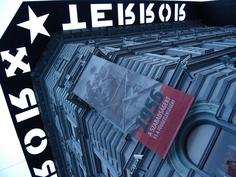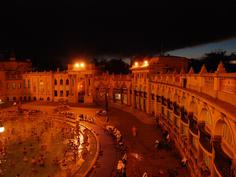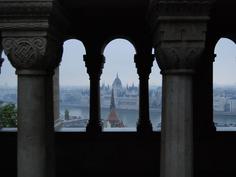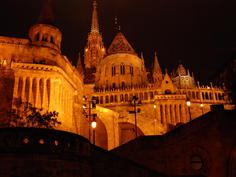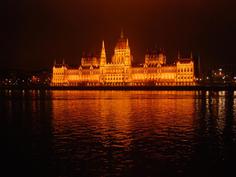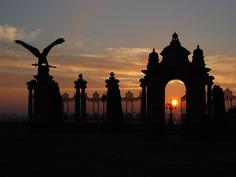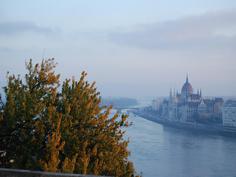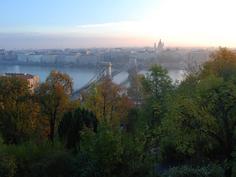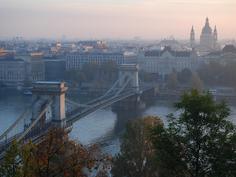 My arrival in Budapest was a little intimidating. The weather was dreary, and the Kelati train station is a run-down, dirty, dump. They even have the monotone, deep voice, Hungarian, loud speaker going constantly. My first thought was, "Why the hell did I come here?" I didn't have any local money, the Forint, and there isn't an ATM at the train station. I asked one lady, one word, "ATM", and she just started screaming at me. It turns out she had some mental issues and I picked the wrong person to ask, but it added to the overall ambiance. I wandered for a good 20 minutes through the surrounding streets before I found an ATM. Then I couldn't figure out the subway ticket dispenser, it had the worst user interface I've ever seen.
Once I was on my way to the apartment I had booked, everything switched and I really, really, enjoyed Budapest. My host was this really nice and talkative older guy that rented a few rooms on the Buda side of the river. He was leaving that night for the States to visit a son, and his other son, Andrej, also a freelance software developer, would be running the place while he was gone. He was very cool, helpful, and nice and we chatted at breakfast both days I was there.
For two days I walked around Budapest. Rick Steves has several walking tours, and I followed them all, 16 hours of walking. The Great Market Hall is a large indoor market that has everything from goose liver to paprika. Back in college, I was at a grocery store one night buying some paprika. Being in college, I picked the cheapest one I could find, probably the generic version. This old guy came up to me and very seriously, as if to impart a life lesson, said, "Son, if you're going to buy paprika, you buy Hungarian paprika." The funny thing is, I still can't distinguish the flavor of paprika, it's so mild. So, I was excited to see real Hungarian paprika in the Great Market Hall. I had a dish with paprika that night, just for good measure.
After walking for two days, I ended at the Széchenyi Bathhouse in the city park of Pest. It worked out perfectly, I was tired and a good hot soak was perfect. I didn't have a bathing suit with me, so I just went in my underwear, which worked fine. I had read that they play chess in the pool, but I searched and searched and couldn't find any games.
Vienna, Austria
I had originally thought that I would go from Ljubljana through Budapest to Vienna, and made my flight plans accordingly. In hindsight, I should have departed from Budapest. Plans change, oh well. So I jumped back on the train to Vienna for my last day. I left one thing to do here in Vienna, and that is to see the opera. I figure to see an opera at (perhaps) the most famous opera house in the world would be pretty cool. The best part is that they open it up for standing room only tickets an hour and a half before the show for the outrageous price of three Euro. Plus, I don't have to stay for the whole three hours, just long enough to get the experience. Hopefully I'll get a ticket on this Saturday night! Ciao all!