Czech Republic, Austria, Italy, Southern Germany
October 4th – Arrival in Prague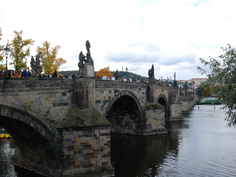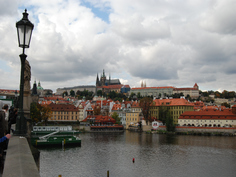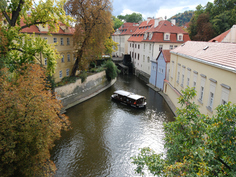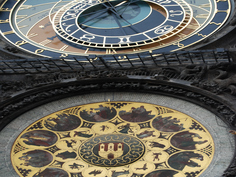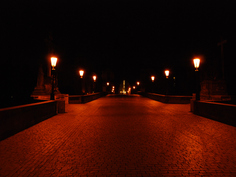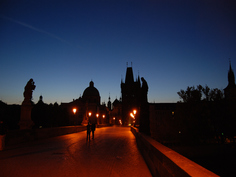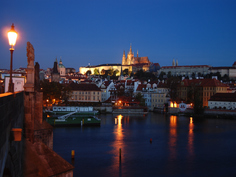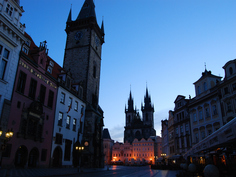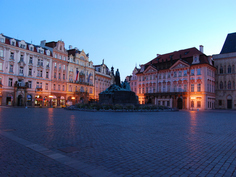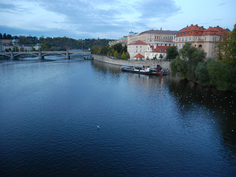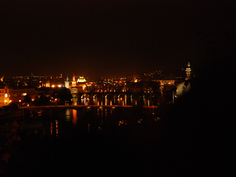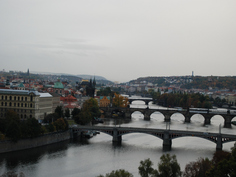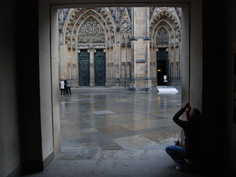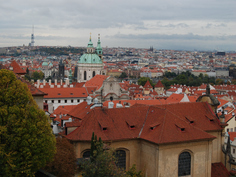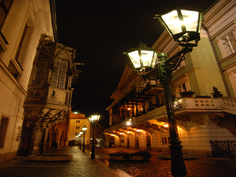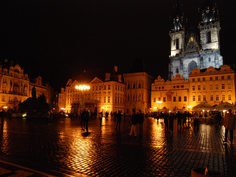 Greetings from Prague! After 10 and a half hours of flying, I'm finally here in Prague. All of my connections went well, I've figured out the public transit, and found my hostel. I guess that's a successful first day. The place I'm staying is a bit of a dive, but the guy at the front desk is very nice and helpful. He's helping me with my Czech, though he laughs every time I say Děruju (thanks).
I walked all over the old town today, watching the Astrological Clock, and crossing the Charles Bridge. The bridge was quite the scene, everyone was out enjoying the Saturday afternoon! I'm going to get there early in the morning tomorrow on the way to the Castle district, and am hoping for fewer people. Weather is cool (50′s), though the sun was out for much of the day. More tomorrow, bed now…
October 5th – Prague
I couldn't sleep past 4:30 this morning and thought I might as well get an early start. It was bitterly cold at that time, and the subway hadn't even opened yet. I tried to take a tram into the old town, and got on one initially going in the right direction. The tram made a turn and I was headed into some suburb in the dark. I asked a lady for help and she tried her best but didn't speak any English. She recognized "town centre" and proceeded to give me lengthy instructions, of which I didn't understand one word. I just got off and caught the next one going back.
By this time (5:00), the subway station was open. There were two guys that appeared to be homeless in the station. They were talking back and forth in Czech for quite a while. Suddenly, one of them stands up and yells in English, "What did you say!" and then runs over and punches the other guy once in the head. Then it was like two cats after a fight, they slowly backed away and went on about their business.
It turns out there are not many people in a dark Wenceslas Square at 5am, and I was the only one on the Charles Bridge! I made the hike up two the Castle and the Cathedral which wouldn't open for another 4 hours. There was a guard and one other jet lagged tourist. On my way back, the sky started to get a little color. By the time I got back to the bridge, there were a few photographers trying to get that iconic Charles Bridge shot. Besides being frozen, it was a great morning to be out and about so early.
I spent the rest of the day exploring other parts of the city – all the major markets, squares, and churches.
October 6th – Prague
I was able to sleep until 6:30 this morning, feeling good. After picking up a couple of pastries, I went back up to the Castle to try it again in the sunlight. On the way up the hill on the tram an old guy started talking pretty seriously to me in Czech. I don't know if he was mad at me for some reason, or if he was just venting. No one else seemed to be paying any attention to him, so neither did I. I quickly jumped off when my stop came, getting yelled at in Czech is kind of intimidating.
The best part of the Castle Quarter is that it has a wonderful view of the Old Town from above. I took a few pictures and did the walking tour from Rick Steves' book then walked back down the hill and around the Little Quarter.
I picked up my bus ticket to Cesky Krumlov for the morning and headed back to nap for a few hours. I'm hoping to do a concert tonight!
I've had two really good meals here including some goulash, and the cheapest thing is the beer. Pilsner Urquel is about 50 cents a bottle in a nice restaurant, 4 times cheaper than bottled water. The Czechs love their beer. In my vocab lesson for the day from my friend at the front desk, he said the only word I needed to know was "pivo" – beer.
October 7th – Cesky Krumlov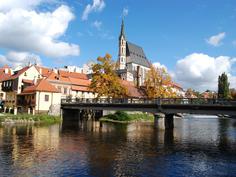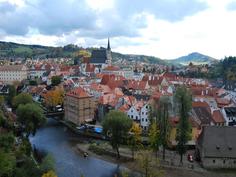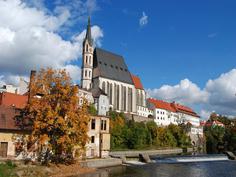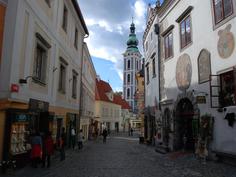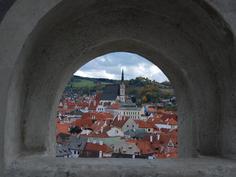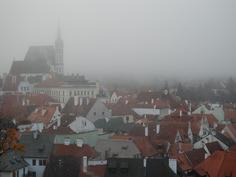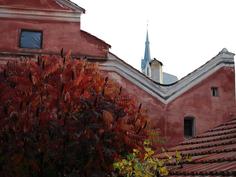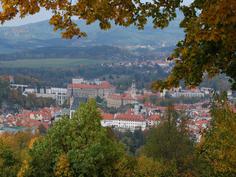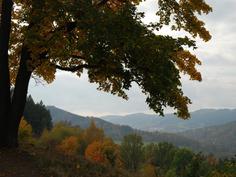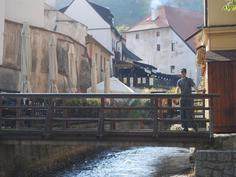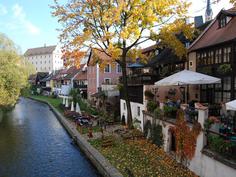 I bought my bus ticket from Prague to Cesky Krumlov last night, and it was a good thing I did – several people didn't have a seat and miserably stood for the 3 hour ride. About a half hour into the ride a guy from the back goes racing up to the driver while we are on the highway and says something, then sits by the door. We stopped at the next pullout and he goes running off to the bushes. There was a semi truck that he tried to hide behind, but the truck was just pulling out. As the truck left, this poor guy was stuck peeing on the side of the road with an entire Greyhound-type bus watching and laughing, it was hysterical. He got back on and we went about our way. If I knew how to say, "Did you wash your hands?" in Czech, I would have.
Every once in a while the bus would rock back and forth a little bit, just enough to notice. After a while I looked up and saw that our driver was talking on his cell phone! For the remainder of the ride, you could always tell when he was on his phone because you'd feel the slight rock from him steering one-handed.
Cesky Krumlov is supposedly the best preserved medieval town in Europe, and it's one of those places that you immediately love. It has the second biggest castle in the Czech Republic which has views over the small town. The river makes a horseshoe through town so you are always by the water; every turn is another picture. I cross a particularly photogenic bridge on the way to my hostel and each time I take another picture of the same scene, thinking somehow that the light is even better this time.
I went to a vegetarian restaurant on the river for lunch and had Indian dal with hummus and… sauerkraut. That's a new one that I'll have to share with our neighborhood Indian restaurant back home.
October 8th – Cesky Krumlov
Today has been a relaxing day of reading, shooting photos, and moving from cafe to cafe. After five straight days of fast paced travel, this was much needed. I debated whether to move on to Austria this morning, but I'm glad I took a break. My hostel is great, the best I've ever been to. It's super clean and comfortable, has nice views, free tea and internet. On the other hand, it is a back-breaking $11 a night. I took a few hour hike in the hills beyond the town, it was great.
When I first arrived in this town I would take a picture and put my camera away, get it out one minute later to take another picture, and so on. Now I just keep it out at all times. I even bought a small tripod over here because there have been many missed photo opportunities from not being able hold the camera still enough in low light; I could have had better morning shots on the Charles Bridge. Tonight I'll get those types of shots!
Digital cameras have really changed things, everyone is taking pictures at all times. It cracks me up to see someone walk around a corner to a particularly beautiful scene, say ahhh, whip out their camera, snap the photo and move on. The whole thing takes about 5 seconds. I don't think there is even a thought of composition. I guess film used to discourage that because you had to pay to develop all of your mediocre snapshots. Now they are still as mediocre, just cheap to dispose of, I guess. I certainly take many more shots.
October 9th – Hallstatt, Austria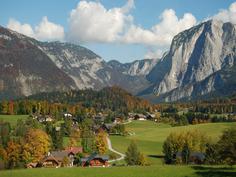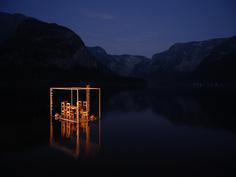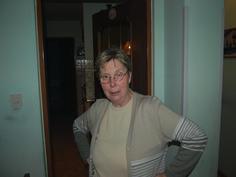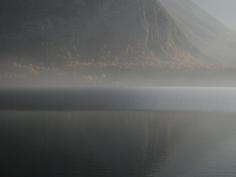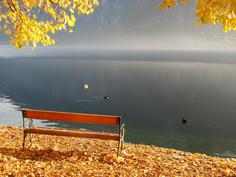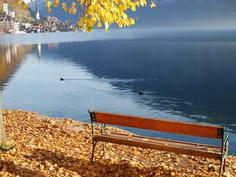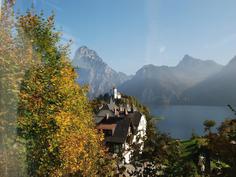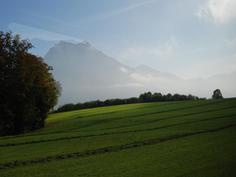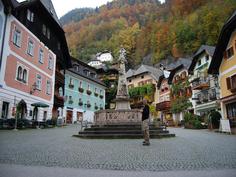 To get out of Cesky Krumlov, I could either take the train back north for 30 minutes, then transfer to a line that went into Austria. Or, I could ride a small shuttle van straight to Linz. Naturally I chose the later, more expensive but a huge savings in time. The van picked me up from my hostel and I was put in the front center, like the middle seat in a pickup truck. The van was all Australians, and I sat next to a girl who needed a window just in case she needed to throw up along the 90 minute ride that snaked around following the river and hills. She asked me not to talk to her so that she could concentrate on not throwing up. It was a glowing foggy morning and all of the trees are in their height of color, it was beautiful. We made it to the train station in Linz on time, and she didn't have to throw up.
I bought my ticket which is now all in German. On my ticket, along with the departure time and class, there was a 1E, which I figured was the platform. I went to the first platform, there was a 1A, 1B, 1C, 1D and no 1E. I looked all over the place to no avail. I went back to information and she told me that meant "1 person". I asked where my train leaves from. She said, "platform six, leaving in about…. now!". When's the next train? "hour and a half" So I ran. The train was leaving the platform, but unlike the Lightrail in Denver, the doors still open once the train is moving. For the second time in my life I jumped on/off a moving train.
I transferred trains about 20 minutes later and was headed for Hallstatt. When the ticket police came through I gave him my ticket. He said, "Hallstatt?" I confirmed. He said, "Bad Ischel, then pash to Hallstatt." I didn't know what 'pash' was but I figured he meant we would go through Bad Ischel then go "past" to Hallstatt, which I knew. I said yes. He said "yes?" very concerned. I confirmed. He went about his way and I became concerned that I missed something. Was he trying to tell me that I needed to buy another "pass" or ticket at Bad Ischel? Or was this one of those trains that split at a certain point and I needed to be on a certain car? When we got to Bad Ischel, ticket man showed up immediately knowing that I had no clue what he meant. He said, "pash, pash!" and pointed. I hurried to grab my things and get off the train still not knowing what I was missing. I noticed many of the people were leaving the train and getting on a bus. Finally I figured out was a "pash" was, the bus.
I confirmed with the driver that we were going to Hallstatt and he corrected my pronunciation and said yes, I figured it was easy going from here. We stopped a several little villages along the way, and I watched the road signs as we neared Hallstatt. There was a 9km sign pointing right, we went left. I figured we were making a stop at another little village and would end up going back toward Hallstatt. 20 minutes later we arrived in Bad Ausse, everyone got off, and the bus turned off. Despite its cool name, Bad Ausse was not where I wished to go. I asked everyone around how I get back to Hallstatt, the only English they could muster was "pash". The problem was, I was at a train station, and there were no time tables for bus routes. Not only that, no one spoke a lick of English, and the train station was closing. I waited for about 30 minutes for another bus to pull in, nothing. I was starting to get a little anxious because not only did I not know how to get back to Hallstatt, but I hadn't yet a chance to change money to Euros (jumping on moving trains doesn't leave much time for ATMs), I only had Czech Crowns. I thought I was screwed. An elderly American couple came through and I asked them if they had any idea how to get to Hallstatt, they didn't. I asked if they had any idea where an ATM was. They told me, "In town, 1 mile that way". She could tell I was a bit lost and very generously gave me 10 Euro. I tried to act like I didn't need the money, but the truth was I did. I thanked her very much and they headed on their way. I thought maybe I could hail a taxi and hope my 10 Euro would cover it, so I tried and he declined me. Not long after, a high school aged girl came along who spoke some English. I asked how to get to Hallstatt and she said I have to catch the "Taxi Bus" at 3:15, which was in about an hour. It turns out that they are working on the tracks and the trains aren't running. I ended up taking the "Taxi Bus", which was a shuttle for high schoolers to get back to Hallstatt from Bad Ausse. I rode with one other boy the 20km back to Hallstatt. When you can't communicate, everything is an adventure. (On my way out of Hallstatt I learned what happened. I was supposed to change buses in the town of Steeg, how I was supposed to know that I'm not sure, maybe he said it in German.)
October 10th – Hallstatt, Austria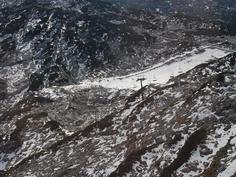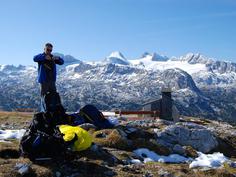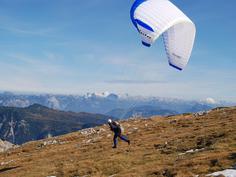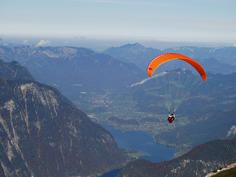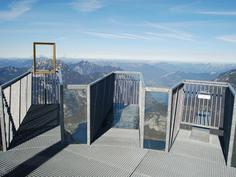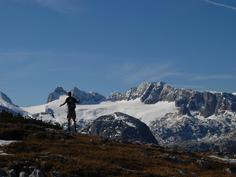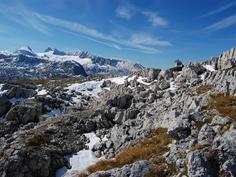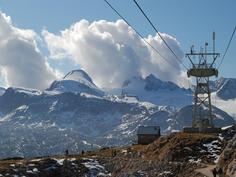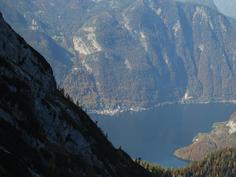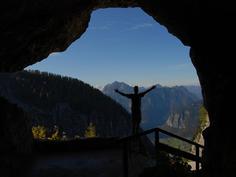 The adventure to get here was well worth the effort, Hallstatt is wonderful. It's very small but is gorgeous and has quite a history. Apparently there was a Hallstatt before there was a Rome. Salt or "white gold" was found in the hills around this region thousands of years ago and Hallstatt is at the epicenter. Due to how valuable salt was for preserving food, there is even an entire epoch of history, the Hallstatt era (800-400 BC), named after this tiny town!
I found a room in an elderly couple's home for $25 Euro a night with breakfast. They were both very nice and spoke just enough English to inquire about my day and ask what I wanted for breakfast the next morning. The home smelled like soup all the time.
After walking through all the streets and seeing the church and square (you can see the whole town in about 30 minutes), I headed for Dachstein. If you take a look at Hallstatt on Google Earth, you can get an appreciation for how steep the mountains are here. Dachstein is the highest point near Hallstatt and the place where all mountain adventure in this area begins. You take a series of two cable cars to get to the top.
There is a small ski resort, copious hiking, rock climbing, and paragliding. I even came across a "town" of dog huts, for dog sledding. There are a number of backcountry huts that people hike to and stay, summer and winter. Above it all is the glacier. I rode up on the tram with a group of paragliders and I really wanted to see them take off, so I followed them on their hike. We wound up the mountain to a place where they could get a running start and then fly for about a half hour or so all the way back into the valley. One girl was only 15 years old and was on her final flight to get licensed. Her take off was the best I saw, maybe because she was so small. Two guys crashed, which looked really, really painful. One of the two was hurt, but he did eventually get up.
I hiked for hours, took another thousand pictures, and then returned back to Hallstatt. Another great day. I couldn't have asked for better weather so far, it's been perfect.
I'll post pictures one I get to an internet cafe that allows access to plug my camera in. The only internet in Hallstatt is at an outdoor bar – 4 Euro an hour, comes with a beer. By the way, the high schoolers get off the bus and go straight to the bar, they are here with me right now. I guess they drink a beer and drown their Calculus sorrows.
October 11th – Salzburg, Austria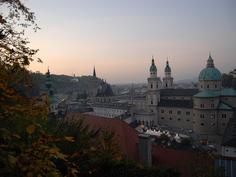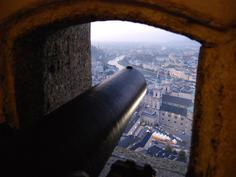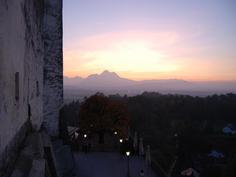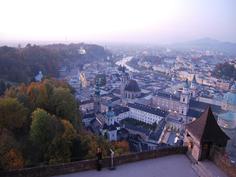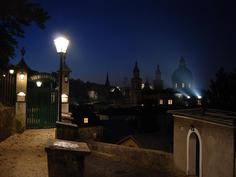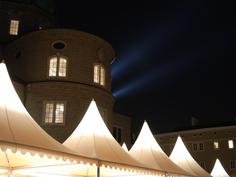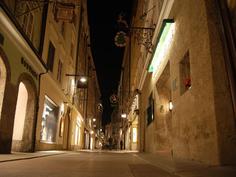 This morning (still in Hallstatt) I had breakfast with the guy that was renting the other room in the same house. He was from Korea, doing a masters degree in chemistry in London, and taking a little vacation to Salzburg and Hallstatt. He's a super nice guy who loves baseball and the Rockies (though not as much as the Red Sox). He wanted to go to Coors Field where there are "many homeruns". His name is Daerog which is Alex in Korean. I knew I liked him for a reason. He had been traveling once a month since he moved to London in August and had been to Paris, Prague and now Salzburg. He was planning to go to Italy next month but mistakenly paid someone in Prague $100 Euro (about $135 dollars) instead of $100 Czech Crowns (a little over $5), and the recipient never said anything. Being on a tight student budget, that was enough to cancel his trip for the month. He lowered his head and said, "such a terrible mistake". I felt bad for him. We rode the bus together all the way back to Bad Ischel. He said he could show me around London if I was ever in the area, and I told him if he was ever in Denver that I'd take him to a Rockies game.
I arrived in Salzburg in the late morning and found a hotel with the help of the TI center. My hotel is the nicest (and most expensive at $50 Euro) place that I have stayed so far, very modern with a great breakfast and an in-room bathroom. Such luxury. It's also the cheapest place in Salzburg except for the hostels which are full on this Saturday night.
Not surprisingly I spent the entire day on foot; I must be averaging at least 10 miles a day. Salzburg is a medium sized city, size wise it feels to me like Sienna in Italy. It's big enough that it feels like a city, but easily walkable and all the sites are relatively close to one another. I took the Rick Steves' walking tour, visited the towering castle, and meandered through the old town. I was up in the castle courtyards at sunset and it was wonderful. I peeked in on a concert at the Salzburg Cathedral where Mozart played the organ for two years. The acoustics were great, it sounded great. Unfortunately, I have no such attire for a venue such as that.
I really like Salzburg, I had the impression that it would be more overrun with Mozart trinkets, but I didn't find that at all. I may be the only person here that hasn't seen the Sound of Music, maybe when I get home.
I felt like I saw everything that I wanted to see, and though I had originally planned on staying two nights, I'm going to move on. Next stop, Bolzano Italy.
October 12th – Bolzano, Italy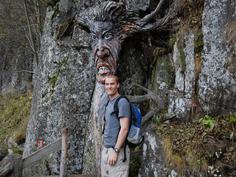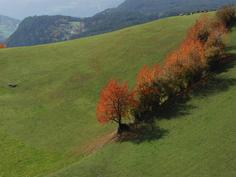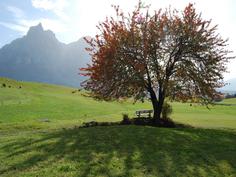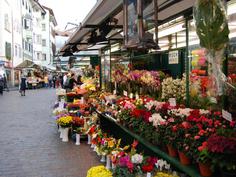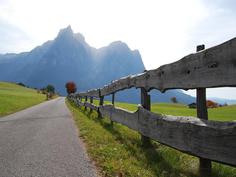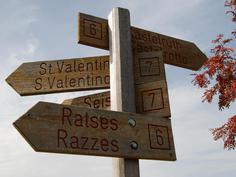 The train ride from Salzburg to Bolzano is two segments with a one hour stop in Innsbruck. The train ride from Salzburg to Innsbruck is gorgeous, maybe the most scenic train ride I've ever been on. I was considering staying a night in Innsbruck so it was nice to be able to check it out ahead of time, though I'm still undecided.
There were about 15 people total on the train from Innsbruck down to Bolzano, I had my own private box (for lack of a better word) where there are six seats and you can close the door. Once into Italy, the terracing vineyards start almost immediately. About 45 minutes from Bolzano an older man opened the door to my box and asked if he could join me. I said sí sì, and pointed to the seat. We talked for a while and he inquired about everything to where I was from to what country my shirt was made in. He wanted to know where I was staying, which I had no idea. At first I was somewhat glad to have the company, but I started to get a weird feeling about this guy. He was looking at me kind of strangely, and I was wondering why he needed to sit in the same box with me, there was only maybe two others on the train. Then he asked me if I would like to stay with him at his home, which was an hour from Bolzano. He wrote down his phone number and told me, "I could give you a bed and some hot spaghetti." Thankfully the stop came. He insisted on walking me out of the train station and showing me where the bus station and the hostel were located. I thanked him and left quickly. I hope I'm not misjudging a decent person just trying to help out a traveler, but my intuition told me otherwise. I think he was gay and hitting on me, despite knowing I was married and 32 years younger.
After leaving my new friend, I headed straight for the bed and breakfast that Marian and I stayed in on our honeymoon. I remembered my way right to the door but it was no longer in business. A green energy company had filled the building. This kind of bummed me out, I had fond memories of this particular bed and breakfast and I was really looking forward to staying there again.
Bolzano is a great little town and other than the B&B vanishing, everything else was as I remembered. There is an outdoor market every single day, all day, and they have a particular grape that I've never found anywhere else. They are so good, and I ate a ton of them. I went to Marian and my favorite restaurant (that we ate at 3 out of the 4 nights), and it was great and still cheap. I had Italian Gelato, which was noticeably better than the Gelato in Austria. And I tried to get the best Tiramisu anywhere from a different restaurant, but they were sold out. The next morning before I got on the bus to go to Castelrotto, I went back to the restaurant and ordered Tiramisu. Surprisingly at 8:15 in the morning, I was the third person to have ordered the dessert for the day.
By the way, I ran into my train buddy when buying a phone card! He was standing outside of the door talking to another guy and didn't notice me. Phewwww. On the other hand, I got followed by a different guy after dinner that same night, and ended up having to walk quickly back to my hotel, but that's a story for another time.
October 13th and 14th – Castelrotto, Italy
I arrived in Castelrotto after a short bus ride from Bolzano. There must be hundreds of small villages in the high hills of the Italian Dolomites. Castelrotto was recommended to me, so that's where I went. The Alpe du Suisi is a hiker's paradise with trails going in every direction and lifts to take you anywhere you want to go. Most of the trails are very mild, if you think of it in terms of winter sports, much is cross country skiing, with the downhill skiing being mostly greens or blues. As you get closer to the limestone spires, the hiking get more rugged and there is even quite a bit of climbing. The neat part is that there are huts everywhere, literally hundreds. Some are for staying overnight at, some are beer halls, some have food and music.
I hiked for about four hours in the middle of the day and came across numerous huts where I would always stop and rest. On a Tuesday around 2pm there was a band playing at one hut and people were singing folk songs and dancing like it was a Friday night after a day of skiing. The other funny thing is how well dressed the Austrian/Italian hiker is. I saw ladies in full dresses, and most men wore a collared dress type shirt under a sweater vest with nice pants. Then they would have heavy duty ice climbing type hard shell mountaineering boots and trekking polls, remember these are mild trails. It was warm, and I was the only one wearing a t-shirt and shorts (read: the only one comfortable).
I really enjoyed the little town of Castelrotto, and had a great 3 star hotel and spa (big time for me) to stay at for $35 Euro, so I stayed for two nights.
October 15th – Mittenwald, Germany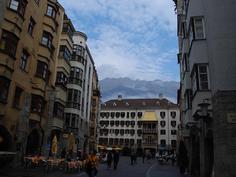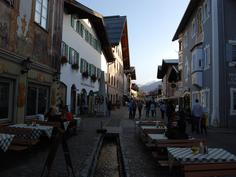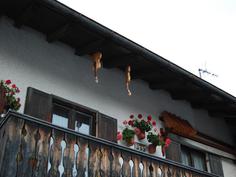 I got up early and headed back north for Germany. I had a change of trains in Innsbruck again and I skipped the immediate connection for a train two hours later so that I could see the town a little more. I once again had lunch in Innsbruck, wandered around the streets and old town, then headed further north into Germany and the small town of Mittenwald.
By now I have the routine down for staying in a private home, I can give all the needed answers though I don't understand the questions. In German they are saying, "here is the key to the room" (ya), "here is the key to the outside door" (ya), "there is the bathroom" (ya güd), "what time would you like breakfast?" (8 o'clock). "coffee or tea" (tee). "Where are you from, England?" (No US) "Ahh Amerika, ya güd" "Where are you going next" (Munich), "Eeh?" (München), "Ah ya München, auf wierdersehen" (Ciao).
Mittenwald was a nice little town, home of world class violin makers. There are violins hanging outside of the windows that are drying, I'm guessing. It has a stream that flows right down the center of the main street in town. They have a canal built for the stream that you have to jump over or take mini bridges to get across. It's a cute, laid back town that was a nice place to make a half day stop over.
October 16th – Munich, Germany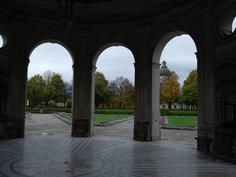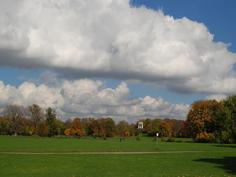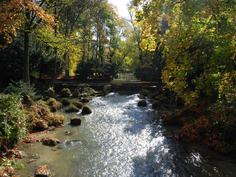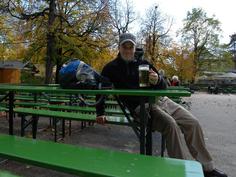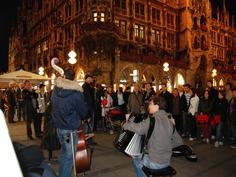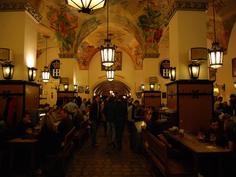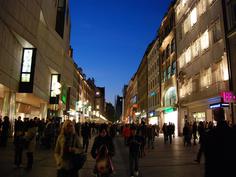 From Mittenwald I took the morning train to the main train station in Munich. I'm one day ahead of my schedule and my hotel wasn't expecting me until tomorrow night. Fortunately the room was open tonight so I was able to easily add another day to my stay. Time to explore Munchen!
October 17th – Munich, Germany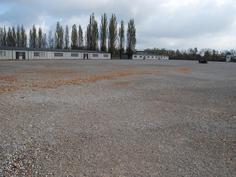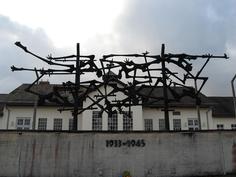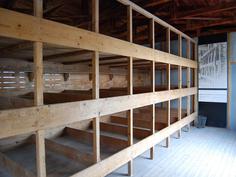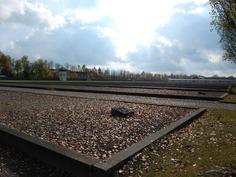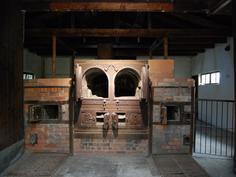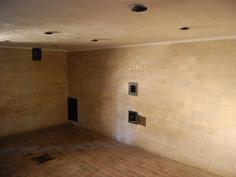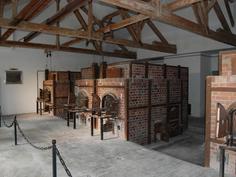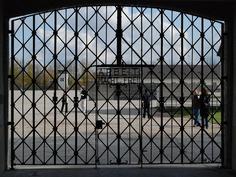 I debated whether or not to go to Dachau, I wasn't sure I really wanted to. I'm not sure what made up my mind, but I got on the train and made my way there. Every school-aged kid in Germany is required to go at some point in their schooling, so there were a few groups of high schoolers. I rented an audio guide and made my way through the guided tour. I guess what affected me the most was the crematorium, they have the ovens still there and wide open for you to look in. I thought that was the most troubling part. You walk through the gas chamber, into the room where they would pile the dead, then into the crematorium. The whole area is just eerie. On one end of the building there was a row of three smaller gas chambers, then a public restroom. I thought that to be really odd, and though I really needed to go, there was no way I was going to shut myself in a room in this building. I wonder how many people actually use that particular WC.
They have done a wonderful job of giving you as much history and information as you can handle, and they don't hide a thing from you. I took in as much as I could, and got back on the train to Munich, where they sing happy Bavarian songs.
October 18th – Munich, Germany
If I had somewhere else to go, I would probably move on at this point, but alas, I'm on my way home tomorrow. I've enjoyed Munich, it's a really nice city, but there are just a couple of must-do sites while you are here. I would say two full days is plenty of time here; I had one day left over so I spent three. The pedestrian only Marienplatz, which is like a giant 16th Street Mall, is where I spent most of my time. The best part is the live street music, especially on Friday night. Just off of the Marienplatz is a great outdoor market with music and beer. The Hafbrauhaus which is the most famous beer hall in the world is a fun scene, again especially on Friday night. They have a special toilet in the men's room just for vomiting. Finally, the English Garden is the largest park in Europe (size wise, think along the lines of Central Park in New York), nudity allowed.
On a side note, some things I noticed here in Germany:
There are a lot of German Shepherds in Germany, go figure. They are kind of like the Lab in the U.S., it seems like 1 out of 2 dogs is a German Shepard over here.
The Simpsons in German is still hysterical, though Homer's voice isn't quite right.
My favorite word that I saw written was beförderungsbeningungen, I have no idea what it means but it's fun to try and say.
I tried to cap off this trip with a Bundesliga soccer match, there are two teams in Munich. Unfortunately one of the Munich teams were away this particular weekend, and the other was playing on Sunday after my flight, oh well.
October 19th – Denver, Colorado, Amerika
It was a long trip back, all the connections went well but it was still over 20 hours from door to door. I'm up at 3:30 this morning (the 20th) and I posted the rest of my pictures and was finally able to do a spell check on this blog. Sorry for all the errors, for some reason the German spell checkers just aren't that effective :). I thought about staying with my routine and going out with my camera early this morning and taking some shots of Denver. Just joking.
It's great to be home.