Margy's Hut – Backcountry Skiing Near Aspen, CO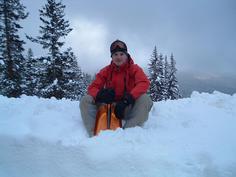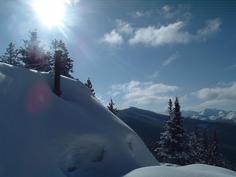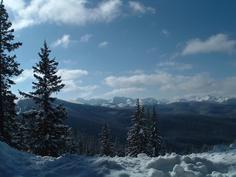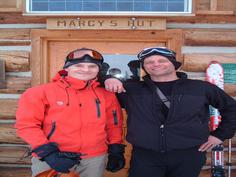 Margy's Hut is in the White River National Forest, 10 miles northeast of Aspen, Colorado. The hut was built in 1982 (along with McNamera's Hut) as the first huts built for the 10th Mountain Hut System. If you follow the main route from the Lenado trailhead, it is just over 6 miles and 2600 feet of elevation gain.
My friend Joe and I left Saturday from Denver and drove to Glenwood Springs to stay with some of Joe's good friends. Sunday morning we were up before the sun and made our way towards Aspen and the trailhead. When packing for the trip, I had decided to use my wife Marian's skins for the trip. Her skins are very new, much wider, and adhere well to the ski. Mine are old, thin, and come off constantly. What I hadn't realized was how much shorter her skins were than mine (stupid mistake, I know). So there we are at the trailhead trying to get all the gear ready and my skins don't fit the skis. We thought about driving into Aspen and buying new ones, but that was at least an hour out of the way. Enter the savior of all backcountry trips – duct tape. I was able to bend the clasp on the end of the skin to be flat and tape the skin on. I knew this was a one-time option, but since the trip in is all uphill and the trip out is all downhill, it might just work.
We thankfully had beautiful weather. If it had been snowing, or if we would have had to break trail, it would have been a long day with just the two of us. Even in perfect conditions, this is a long haul. It took us just over 5 hours of travel time to cover the distance. Five hours of watching one ski go in front of the other, counting steps, trying to figure how far we still have to go.
As I was coming upon the hut, the first thing I saw was the chimney. Being exhausted and not quite expecting to be at the hut yet, it was like an optical illusion. You couldn't see the hut because it was completely buried by snow on the backside, except for the chimney. It took me a second to realize that we had finally made it.
The hut wasn't supposed to be full for the nights that we were staying, and when we arrived there was nobody else there. In fact, it wasn't until almost 9PM that our first hut friends arrived. Joe and Sarah from Boulder came in wearing headlamps. They had been skiing in Crested Butte and then made the trek in after the drive. Joe had a broken arm from a climbing injury and Sarah had hurt her back a few days prior, but they made it through the difficult trek. Nobody else ever came.
Over the next two days I had a great time with Joe, Joe, and Sarah, and we did what you do on hut trips – ski a little, tour around a little, eat a lot, play games, and keep the fire going.
I had forgot to get my camera battery off of the charger the night before we left. It wasn't until I was about to shoot a picture of Joe cruising through the powder, that I realized my camera wouldn't turn on. What a bummer! We relied on Joe's little borrowed camera for the few pictures of this trip, at least I have something.
The ski out was fast and easy, taking less than an hour. It was a great trip, thanks Joe for leading this one!