Thailand
Racha Yai Island – South of Phuket, Thailand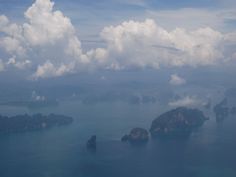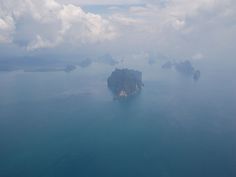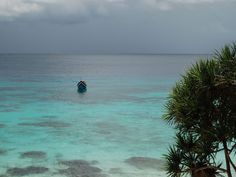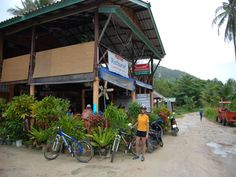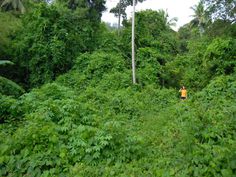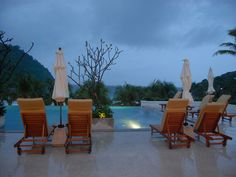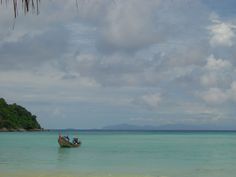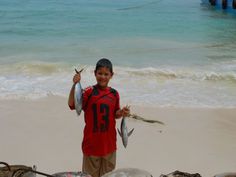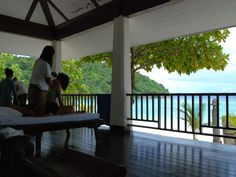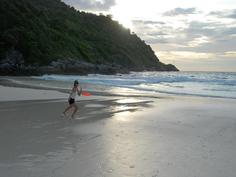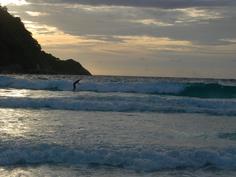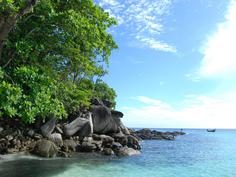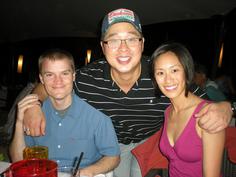 Greetings all! We've arrived on Racha Yai island in the Andaman Sea, about an hour south of Phuket, Thailand by boat. It took us a while to get here – about 35 hours in total door to door. We happened to share a plane with John and Mary from Denver to San Fransisco as they were on their way out to San Fran for the weekend. For us it was on to Hong Kong, then to Phuket, and on to this little island of Racha Yai. There is a small community of people that live here, a few beach bungalow style accommodations, a few dive shops, and one up-scale resort. If you know our cousin Nelson, you can guess where we are staying. It's a very posh resort, that was very welcome after such a long day of travel.
We've been here for the first four nights in celebration of Nelson and Elaine's wedding! They had a beautiful ceremony officiated by Nelson's brother Brian. Nelson sobbed the entire time. The reception was great, capped by fireworks on the beach. Our days have been relaxed, a lot of reading, snorkeling, and eating. We've biked around the island exploring the different areas and eating the local curry. The Thai people have a reputation for being extremely warm and welcoming, and we've found this to be absolutely true. They are always smiling and extremely nice.
One funny thing that has been happening is that our frisbee draws interest from the locals. We bring a frisbee on every trip, even camping, it always comes in handy. We've been throwing a frisbee in the evenings on the beach, and without fail people will come up and want to give it a try. Kids and adults alike. It's pretty funny.
Ko Phi Phi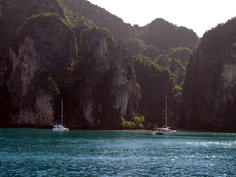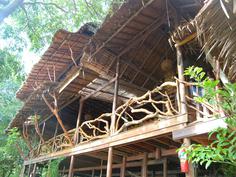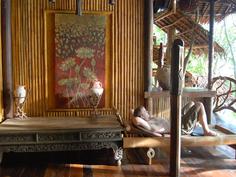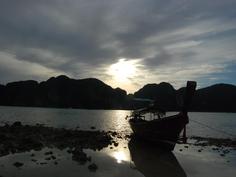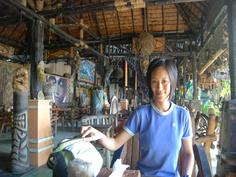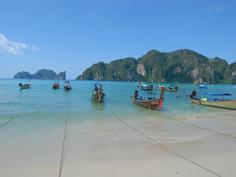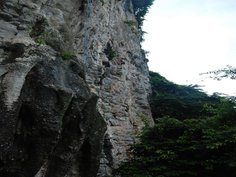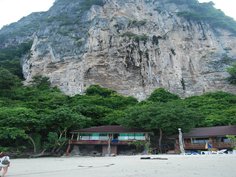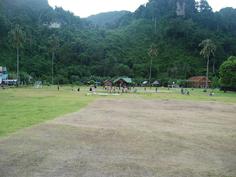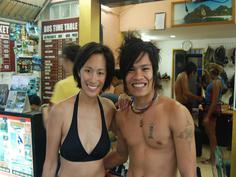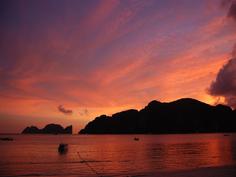 A speed boat, taxi, ferry, and longtail boat later we found ourselves on the island of Ko Phi Phi. The claim to fame here is that the uninhabited sister island next door was the location for the Leonardo Di Caprio's "The Beach". Both islands are very beautiful.
We traded our posh euro-style resort with a private outdoor shower for a hippie commune/treehouse with a mosquito net. Other than that life is still slow, filled with sun, sand and curry.
In China we had such a good time climbing that we thought we'd try it again. We found a little guide service that took us and a couple of Aussies out for a half day on the wall. Similar limestone climbing to what we had in Yangshou, China. The climbs were easy but they had a great view of the bay from the top.
Chiang Mai, Northern Thailand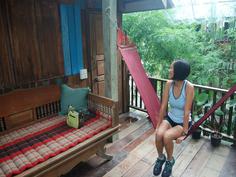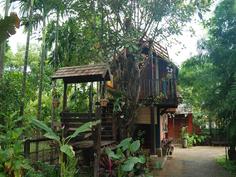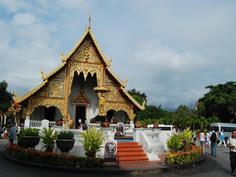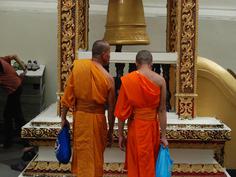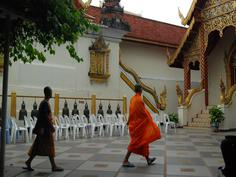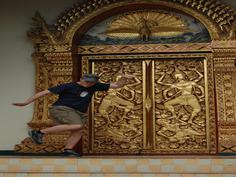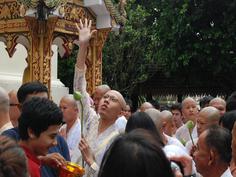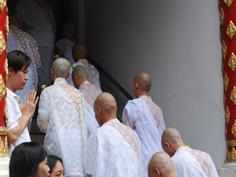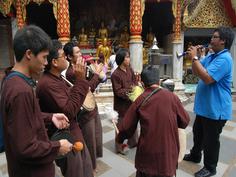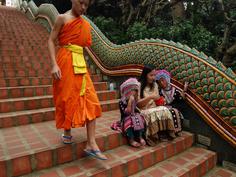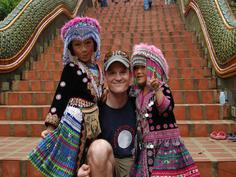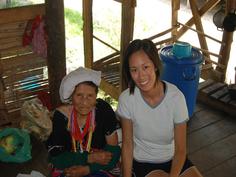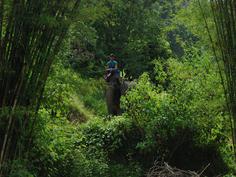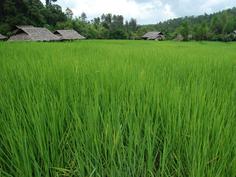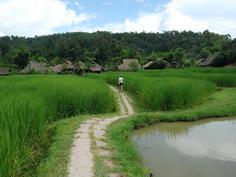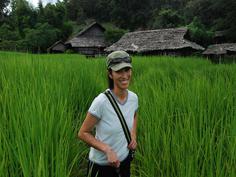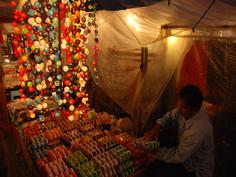 After a week on the beach, we're ready for a little more culture and adventure. We've chilled out so much that we almost missed our ferry back to Phuket. Who pays attention to time on the beach, no body actually looks at a clock right? Wrong. We made it as they were pulling up the ramp, phew! We're flying up to Chiang Mai in northern Thailand, which should be very different from the beach towns of the south…
We arrived in Chiang Mai late at night to a very welcoming owner of the Baan BooLoo Guesthouse in the old city of Chiang Mai. She has a very cute place that is traditional Thai, up on stilts and made out of wood.
In the morning we decided to go to two of the more popular temples in Chiang Mai. The first temple is the Wat Phra Sing temple and is walking distance from our guesthouse, still in the old town. The second temple is called Doi Suthep and is up on the hillside overlooking the Chiang Mai valley.
We found a taxi driver to take us up the winding road to Doi Suthep. He was very nice, proud of his town and pointed out many things on the ride up the mountain. More of tour guide than taxi driver.
Doi Suthep is 300 steps up from the road that leads you there, and is a lively scene at the top. Many monks, bells and trinkets. At one point, a band started playing and more monks in white robes came out throwing coins in the air. People were scattering to grab the money on the ground. Then an offering came by and everyone put the money back in the trays.
Outside of town is a village of several "hill tribe" people. There are hill tribes all over the mountains in this area, most of which you have to trek a day or more to get to. There is one village not too far outside of town that is accessible by car. Our driver Yut was doing such a great job that we stayed with him and had him take us to the hill tribe people. They allow you to walk through the village, and view their homes. It feels a little bit invasive and perhaps contrived (as they are making money from this). At the same time it was interesting, many homes had dirt floors and just a fire with a wok for cooking. They live in a beautiful valley with rice fields all over.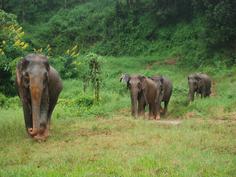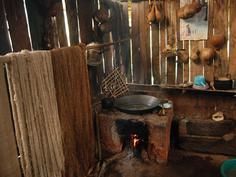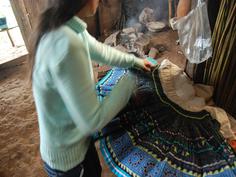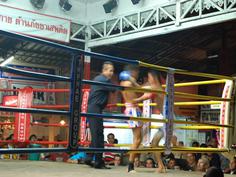 One of the things we had wanted to do while in Thailand was take a cooking class. In Chiang Mai there are a few cooking schools that offer all levels of classes, from a half day to week long courses. Again we relied on Yut, and he took us to a culinary school that he knew of and we signed up for the next morning. The next morning a little van came by the guest house and picked us and brought us to the cooking school. We were joined by a couple from Seattle, a chef from Denmark, a couple from Northern Ireland and a gal from Spain, all of different abilities. They taught us all about the different spices, peppers, coconut milk, etc. used in Thai dishes. They would first demonstrate how to make a particular dish, then have us go back to our stations and let us go at it, helping when needed. After each dish we sat down at a dinner table with everyone and ate their new dish. It was great fun, we made four dishes in all: panang curry, Chiang Mai curry, a fried fish dish, and a sweet and sour vegetable plate. The chef and owner of the school is a celebrity chef that has a show on the BBC. He was really good, had a great sense of humor, and talked with a British accent which was kind of funny.
We capped the day with a trip to the night bazaar, another massage for Marian, and seats at a Thai boxing fight. Great day.
Our last day in Chiang Mai we spent with Yut as our driver again. Marian called him up and he was glad to show us around for another half day. We decided to check out the elephant rides. Yut told us there were two places that had elephants. One place was like a theme park and he thought we would like the other better. We obviously went with his recommendation, which turned out to be a good decision. As we drove by the first place, there were loads of cars and tour buses. Ten minutes later we arrived as the only people at a small hut that had four elephants. They came right up to the car as we pulled in! They set up a harness for us, we climbed on from a platform, and they took us around the country side for about an hour or so.
On the way back Yut said he wanted to show us something, and he took us up further up a valley to a Hmong village. This village had a different feel all together than the first hill tribe village we went to. The first one felt like a theme park, kind of a show. This one felt legit. We were the only tourists there. They showed us their "museum", Yut translating, and said we could walk around a bit if we wanted to.
We had a great time in Chiang Mai. The city itself isn't very pretty, the buildings are cheap looking and dirty from all the exhaust (which can be overwhelming at times). However, the surrounding mountains are beautiful, there are many opportunities for exploration here, and the city comes alive at night markets, bazaars, and great little restaurants.
Chiang Rai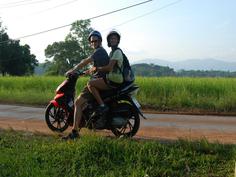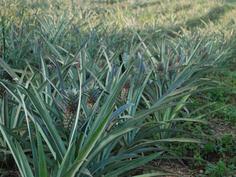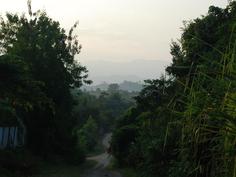 We're continuing north to the town of Chiang Rai, three hours by bus from Chiang Mai. Chiang Rai is smaller and quieter and has easy access to the surrounding country side.
We had wanted to rent bikes in Chiang Mai, but it was hard to find a place that rented a regular bike. The little cafe across from our hotel rented motorbikes, kind of an enhanced scooter. I was a little nervous about renting the motorbike because they drive on the left side of the road in Thailand. That, and it seems that traffic signs, lights, and lanes are mere suggestions. We went for it anyway, and it turned out to be great fun. The helmets didn't fit, so we left them in the room. They never asked if we knew how to drive one, or anything about insurance. We just handed over our 250 Bhat/day ($7.50) and were off. Our scooter really moves, easily hitting 100km/hr on the highway, much faster than my little Honda metro at home. The first day we just picked a direction and went for it, ending up on some dirt roads in the surrounding country side.
Mae Salong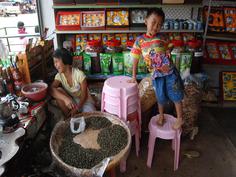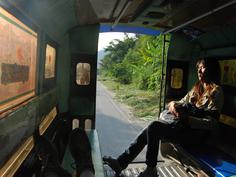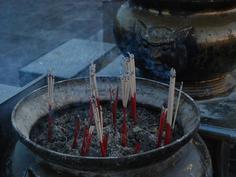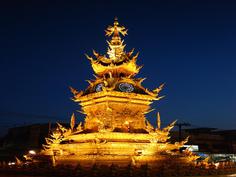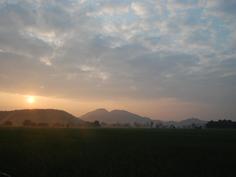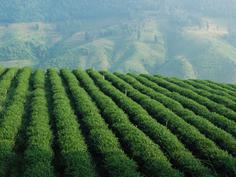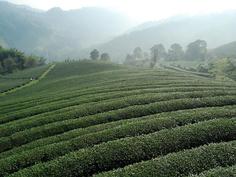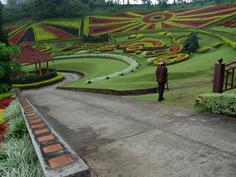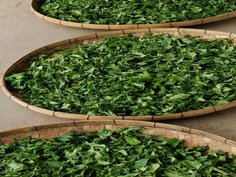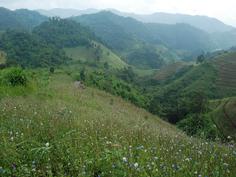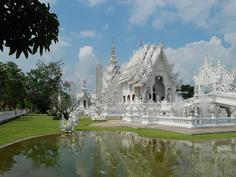 Mae Salong is unique in that it's a Chinese village. It was settled by the fleeing Kuomintang from China back during the Cultural Revolution. Marian's parents went to Taiwan, some people went to Northern Thailand. It's a little bit tricky getting here as you have to take the city bus north from Chiang Rai, get off in the little town of Mae Chan, then get in one of the shared pickup trucks that take you an hour into the mountains. We're close to the Laos and Burma borders and there is an ongoing opium drug trade problem, so there are several drug stops on the highway. The police board the bus and look around and everyone shows their ID. I didn't have my passport because the lady who rented the scooter kept it until we returned the scooter. The policeman asked for it, I said, "Sorry I don't have it", and he just moved on. Phew.
The scenery is spectacular the whole way. It's the only place in Thailand that grows tea. We didn't realize how long it would take to get here and the last ride down was in the early afternoon, so we only had a few hours to spend in Mae Salong. Marian did get to speak some Chinese to order us lunch and figure out how to get back to Chiang Rai (which was different than getting here).
I was bummed that I didn't get to the tea plantation due to our lack of time, so I headed out before sunrise the next morning on the same route, this time on the motorbike. Marian preferred to sleep in and get a massage, so I was on my own. 45 minutes on the highway, through the drug stops (still no passport and again they could have cared less about me), then an hour up the mountain. It was a great ride, and I could stop at any point to take pictures. I made it to the plantation and they gave me a tea ceremony.